Written by

John Stanley, Adjunct Professor, Institute of Transport and Logistics Studies, University of Sydney Business School, University of Sydney
We were heavily involved in the consultation program for Melbourne's long-term land-use plan, Plan Melbourne. The idea that resonated most with many participants was shaping the city as a series of 20-minute neighbourhoods.
People generally loved the thought that most (not all) of the things needed for a good life could be within a 20-minute public transport trip, bike ride or walk from home. These are things such as shopping, business services, education, community facilities, recreational and sporting resources, and some jobs (but probably not brain surgery).
Creating a city of 20-minute neighbourhoods is a key policy direction of Plan Melbourne 2017-2050. As the plan states:
The 20-minute neighbourhood is all about 'living locally' – giving people the ability to meet most of their everyday needs within a 20-minute walk, cycle or local public transport trip of their home.
This planning idea has gained Melbourne recognition in international planning circles. For example, Singapore's recent Land Transport Master Plan 2040 is based on shaping the city and its transport systems to achieve 20-minute towns within a 45-minute city. Officials who prepared the report have acknowledged to one of us Melbourne's leadership with the concept.
The concept is not about travel by car. It is about active transport (walking, cycling) and the use of public transport. The goal is that this combination of modes would offer a reasonably sized catchment area in which people, jobs and services, including recreational opportunities and nature, are accessible.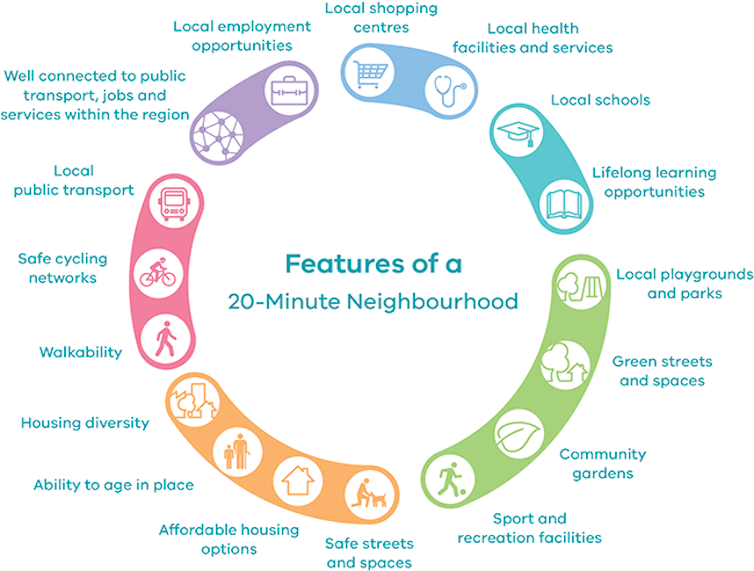 Authors: John Stanley, Adjunct Professor, Institute of Transport and Logistics Studies, University of Sydney Business School, University of Sydney
Read more https://theconversation.com/people-love-the-idea-of-20-minute-neighbourhoods-so-why-isnt-it-top-of-the-agenda-131193