Written by

Simone Casey, Research Associate, Future Social Service Institute, RMIT University
Our analysis shows an economic downturn as a result of the COVID-19 pandemic will dramatically increase rental stress for people with insecure or casual work. If the downturn persists this will place people in precarious jobs at higher risk of homelessness.
The scenario we explored is the effect of loss of casual work on people on very low incomes. We identify this at-risk group as those aged between 19 and 30 years, living independently with disposable incomes of A$600 a week from casual work or a combination of casual work and benefits.
Read more: When it comes to sick leave, we're not much better prepared for coronavirus than the US
They typically work in cafes, restaurants, catering, events, fast food and retail. These are the jobs most immediately impacted by an economic slowdown. It is estimated one in four Australian workers is casual, although not all are on low incomes.
The infographic below illustrates the extreme rental stress a slowdown will cause the low-income casual workers. We have calculated average rent across the broader Melbourne and Sydney metropolitan areas. The infographic shows the impact on rental stress of losing up to A$300 per week of disposable income. The percentages represent the amount of income taken up by rent, with red indicating the most extreme rental stress.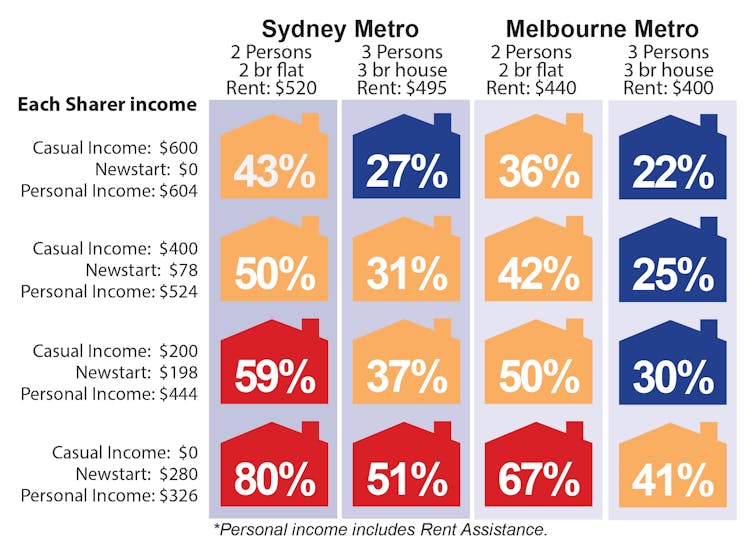 Authors: Simone Casey, Research Associate, Future Social Service Institute, RMIT University
Read more https://theconversation.com/coronavirus-puts-casual-workers-at-risk-of-homelessness-unless-they-get-more-support-133782