Written by

Kris Gledhill, Professor of Law, Auckland University of Technology
Less than a fortnight after the first anniversary of the Christchurch mosque shootings, and on the first day of New Zealand's four-week COVID-19 lockdown, the Australian man responsible for the attacks has surprised the nation by pleading guilty to all charges.
As well as being guilty of 51 counts of murder and 40 counts of attempted murder, he becomes the first person convicted of terrorism in New Zealand.
Up until now, the accused man – who The Conversation has chosen not to name – had pleaded not guilty to all charges and was due to stand trial from June 2. But the guilty plea means a trial is no longer necessary and the process now moves to the sentencing phase.
Prime Minister Jacinda Ardern said she "let out a massive sigh of relief" when she heard the news of his guilty pleas, and that she expected many New Zealanders would also feel:
a certain sense of relief: that the whole nation, but particularly our Muslim community, are being spared from a trial that could've otherwise have acted as a platform.

Nothing will bring their loved ones back. But this is a small reprieve.
But families of victims and the wider New Zealand public look likely to face a long wait before the Australian terrorist is sentenced, as the court processes have been disrupted by the pandemic response. The judge has indicated that sentencing will only take place when all victims who want to attend can be present.
Read more: Far-right extremists still threaten New Zealand, a year on from the Christchurch attacks
Timing of guilty pleas
A note released by the judge, Justice Mander, records that the defendant intimated earlier this week that he wished to plead guilty to all charges and then confirmed that in writing.
Criminal courts continue operating for urgent matters during the lockdown and the Christchurch High Court used audio-visual links for the defendant and his lawyers at the change of plea hearing. Only a small number of media representatives and senior members of the Christchurch Muslim community were present.
No date has been fixed for the sentencing hearing – and this is sensible. Justice Mander has asked for reports on the defendant prior to sentencing.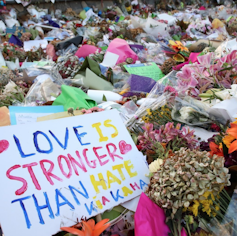 Authors: Kris Gledhill, Professor of Law, Auckland University of Technology
Read more https://theconversation.com/life-in-prison-looms-for-australias-christchurch-gunman-now-nzs-first-convicted-terrorist-134780