Written by

Hassan Vally, Associate Professor, La Trobe University
To control the spread of COVID-19 we need to identify as many people with the virus as possible. If we know who has it, we can isolate them so they can't infect others and quarantine their close contacts in case they've already been infected.
But some experts are concerned we're not testing enough. Because of restrictions on who can be tested, they argue, we're only seeing the tip of the iceberg. Beneath the surface, the virus could be spreading much more than we think.
Read more: To get on top of the coronavirus, we also need to test people without symptoms
The federal government recently expanded its testing guidelines and now allows states and territories to set their own rules for testing. But before we get to what they say, let's look at the symptoms.
What are the symptoms of COVID-19?
Colds, influenza and COVID-19 are all respiratory illnesses and share many of the same symptoms.
For COVID-19, the most common symptoms are fever and a dry cough. Other symptoms might include fatigue, the production of phlegm, shortness of breath, a sore throat and a headache.
But some people experience no, or mild, symptoms.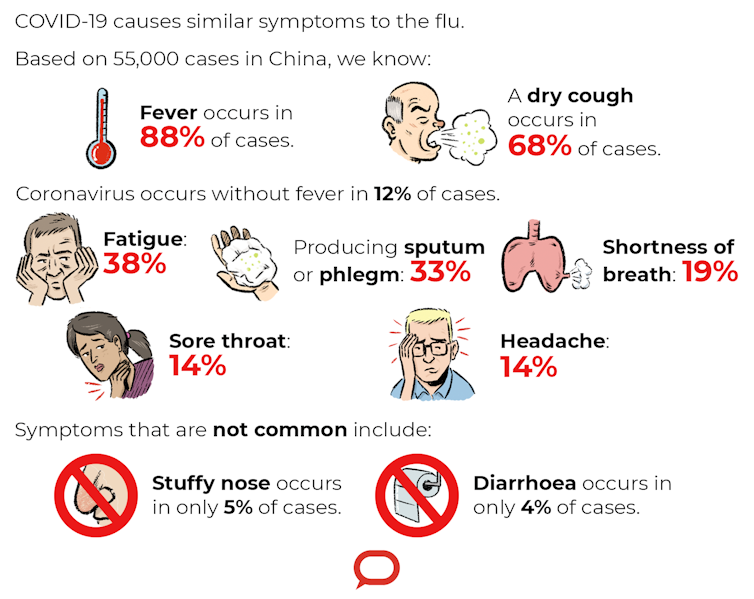 Authors: Hassan Vally, Associate Professor, La Trobe University
Read more https://theconversation.com/who-can-get-tested-for-coronavirus-135422