Written by

Jennifer Gribble, Honorary Professor, Department of English, University of Sydney
Chronicling four generations of two families, Felicity Volk's Desire Lines is set against landmarks of 20th century Australian history, encompassing a geographical span that begins in the Arctic Circle and ends in the Blue Mountains of New South Wales.
Desire Lines is a richly textured celebration of Australia – its landscape, sights, sounds, seasons – while holding in close focus the inner lives of its characters. It is epic in scale, but also an unfolding love story that keeps the reader guessing until the very end.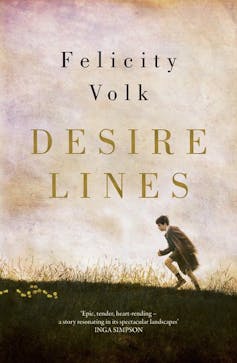 Authors: Jennifer Gribble, Honorary Professor, Department of English, University of Sydney
Read more https://theconversation.com/book-review-desire-lines-is-a-small-love-story-inside-an-epic-tale-138726