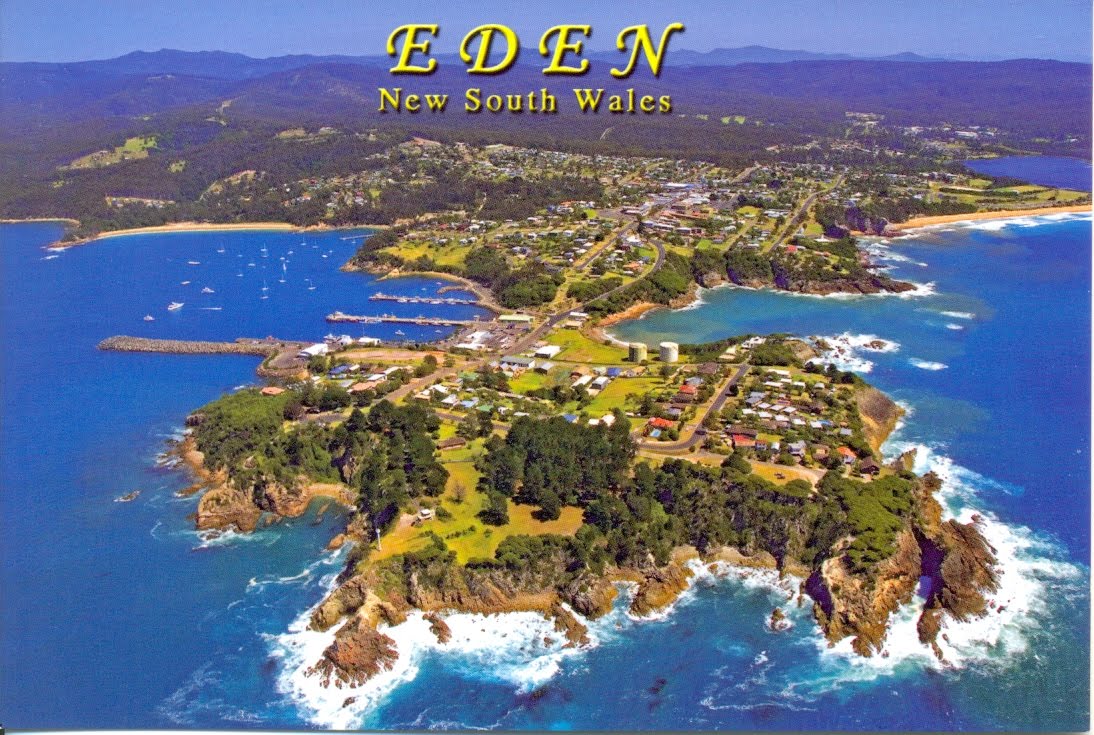 Eden is at the bottom of New South Wales on the East Coast of Australia. It happens to be about half way between Sydney and Melbourne on the Princes Highway.
Looking at it another way, Eden is a NSW town just over the border from Victoria just beyond Mallacoota.
The town is well serviced with shops like Coles and supported with NSW government services so it is not an outback adventure to stay for a while in Eden.
The major industry of Eden would be fishing. The tuna cannery is long gone as is the tuna boat fleet but the local fish industry is big. There is a woodchip shipping terminal in Twofold Bay that exports wood byproducts from sawmilling in the hills to the North and South of Town.
Eden is a major tourist magnet. The sightseeing is outstanding with lots of hills with views across water to more hills. It is still a country town, so people from large cities go to Eden to experience a change of pace and relax with family or friends in a good spot.
Once you get to Eden you can stay in luxurious holiday apartments on the hills, medium motels, budget motels or camping. Camping is great at the Aslings Beach Camping park which is right on the beach a kilometre from town. The campers can use waterfront powered or unpowered sites... very popular with Jucy, Maui, Apollo, Hippie Camper and the other camper van hire company customers. There are also a range of cabins including luxury large people holding capacity bungalows and budget style cabins as well.
There are two camp kitchens with fridges, gas stoves, grills, micro wave ovens, jugs and toasters so they become social hubs at peak times. A visitor from Canberra could be talking to a family travelling around on a holiday from Holland.
5 things to do in Eden
1.
Visit the beach.
Aslings Beach is beautiful to look at and a good place for a swim. ( watch the dumpers which crash on shore because of the steep slope of the seabed. )
Explore the waterfront pool on the town end or wade across the mouth of the lake behind Aslings Beach on the Eastern end.
The council seems to be happy for dogs to use the beach. ( Owners... Clean up ! )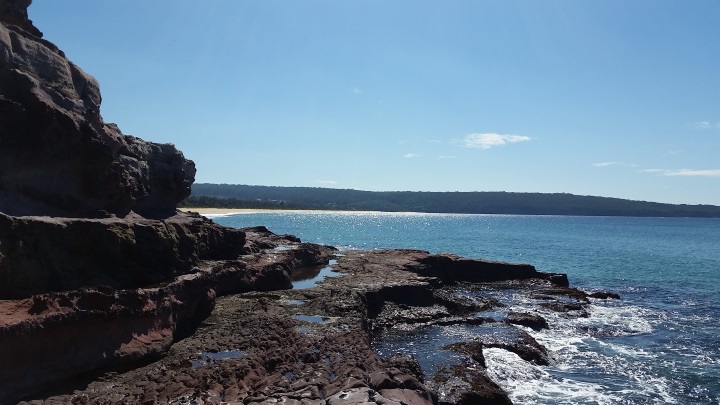 2.
Fish or watch people fishing
The three wharves at Snug Cove are open to the public. You can walk or drive up to the water's edge.
If you are not into fishing you can watch people who are catch very small fish or nothing at all.
3.
Visit the Eden Museum
The local museum has a huge display of artifacts, skeletons of marine life and information. The guides know or can find out about anything to do with Eden, its history or its people.
4.
Try a fish meal
Down at Snug Cove, there are some take away or dine in food outlets offering local fish and seafood.
I did not see one sign saying "Product of China" in the take away fish shop on the wharf road. Products from Australia reigned. Wow !
5.
Cat Balou Cruises
Book for a voyage of exploration for a few hours around Eden's harbour. You will get to see a lot and learn a great deal about what went on and what goes on in Eden. It's cheap and fun.
Some more ideas


* Head on down the road a few kilometres towards the Victorian Border. 
Kiah Wilderness Tours
is the place that is famous for guided bird watching and kayaking trips.
From their website :-
* We offer 2 different ½ day tours for up to six (6) people (minimum 2) departing from – and returning to – our lovely grassed picnic area by the river.
* We don't rush. If you want to stop and take photos or to fish or for a swim – just tell us.
* The river is dotted with little sandy beaches so it's easy to stop.
* We can go upriver – where the waters slowly become fresher and the azure kingfishers and other small birds are often seen.
* Gippsland water dragons can be spotted, basking on fallen trees soaking up the sun.
* Or we can go downriver – where the water becomes clearer, and you might spot a stingray or a flathead as you paddle over their hideout in the sand.
* The river turns salty and widens as it gets closer to Twofold Bay.
Tour #1: 1/2 day morning tour:  Cost $80 per person. Tour departs by 8am at the latest and returns at lunchtime.  Tour includes scrumptious morning tea of your preference.
Tour #2: 1/2 day Lunch tour:  Cost $95 per person. Tour departs mid morning and returns mid afternoon. Tour includes delicious lunch including baguette followed by fruit or mini muffin, and beverage (non alcoholic) of your choice.
*
Head up to Bega.
Bega is a much bigger town with cheese as a drawcard.  Check out when the Bega races are on.
*
Explore Merimbula
Another town bigger than Eden with more options for sophisticated travellers; Merimbula has stunning waterways..
You could try some shopping in the boutique outlets in the district like
silver skull ring shop
for all sorts of products.
Ask !
When you get to Eden ask fellow travellers and locals about the town. There is so much more to Eden. It is local knowledge that is the key to a good holiday.
Since the second world war, Eden has been a favourite destination for Australians to have a family holiday with people they are close to. Their children's children still come back to enjoy a quiet town with a lot to offer. You can do nothing at all or get out and explore.