Written by

Tess Sanders Lazarus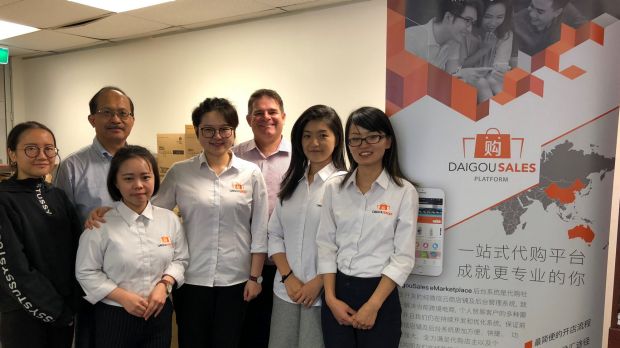 DaigouSales.com is a WeChat marketplace developed specifically for Australian businesses wanting to sell products into China.  DaigouSales.com was established by China expert Dr Mathew McDougall to give Australian businesses the ability to sell to consumers in China via buying agents (known as Daigou).
The DaigouSales.com marketplace has grown significantly since its launch last year with many of Australia's leading brands having established flagship eStores within the marketplace. There is also a growing number of eStores representing emerging, but high quality Australian brands.  
This week, Australian Health Products Central (AHPC) launched its flagship eStore in the DaigouSales.com marketplace which will enable Australian based Daigou to purchase products directly from the group which stocks quality Australian and New Zealand based health products. Through the DaigouSales.com logistics services, orders from the Australian Health Products Central eStore are delivered directly to their buyers in mainland China.
AHPC is an Australian owned and operated business located in Sydney, Australia.  Through its affiliation with the Pharmacy Alliance, an independent pharmacy group, it has a network of over 650 Australian pharmacies.   Pharmacy Alliance members will be able to opt in to the AHPC export program giving independent pharmacies across Australia the opportunity to access the burgeoning Chinese market space via Australian based Daigou.  
"The AHPC flagship eStore in the DaigouSales.com marketplace will be the only official online location for Daigou consumers to purchase products from the group and participating Pharmacy Alliance members," Simon Reynolds, Co-owner and Executive Chairman of the Pharmacy Alliance said today.
"This will also provide an opportunity for AHPC suppliers to enter the China market via the fast growing Daigou-to-Consumer (D2C) cross border trading channel.
"Australian products are increasingly being sought out by China's rapidly growing middle class who are looking for high quality and trusted international products."
"We are delighted to have AHPC launch their flagship eStore within the DaigouSales.com marketplace. Health and wellness products are very important to Chinese consumers, who are very discerning in their choice of products and are willing to source them from their trusted Daigou contacts in Australia." Dr McDougall, CEO of DaigouSales.com said today.
"Australian Daigou will now have access to 30,000 pharmacy products on this eStore and this effectively enables consumers in mainland China to purchase products through DaigouSales.com as if they were locals within Australia."
AHPC President Xing Mao today said "the establishment of an eStore on DaigouSales.com will help our suppliers and mum and dad pharmacies across Australia to increase sales by selling and exporting products to China."
"We are focused on helping our wonderful base of suppliers to succeed and flourish and an eStore on DaigouSales.com will give them, as well as participating pharmacies, a new untapped sales channel and we are really excited about this."
"Our eStore on DaigouSales.com will enable us as a group to open our suppliers and participating Pharmacy Alliance pharmacies up to doing business directly with mainland Chinese consumers via Daigou intermediaries.  The new eStore is a win win for mum and dad business and pharmacies across Australia," Simon Reynolds added.
"We, along with participating Pharmacy Alliance pharmacies will now be exporting to China and the process will be incredibly easy, so easy in fact that we can continue focus on day to day operations  while DaigouSales.com does all the work for us."
The DaigouSales.com WeChat marketplace is a D2C platform which allows Australian merchants and  retailers to sell products to Chinese consumers through Daigou intermediaries without having a physical presence in China.    It currently represents hundreds of brands and is used by Australian businesses as a stepping stone into China before commencing on B2C platforms and developing a physical presence in China.
www. www.aushpc.com.au