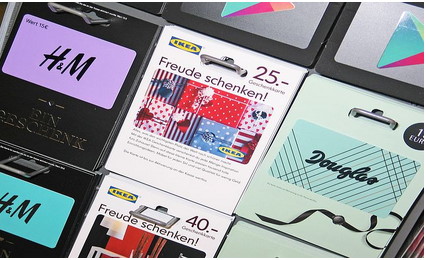 Gift cards are brilliant ways to grow your hair business. According to research, about 74% of customers love receiving gift cards. These cards are a great way to improve and grow your business and clientele. Also, according to research, the gift card industry reached an all time high of $160 billion in 2018 alone. That is a completely untapped revenue stream for your business. To make your business stand out you could also include free gifts  like hairdressing scissors to the gift cards either for the purchaser, the user or both. Here are some of the ways gift cards can grow your business. 
Exposure
Gift cards introduce your business to customers who may never come into your shop. If your services are top notch, the easiest form of recommendation would be from loyal customers who purchase gift cards for friends and loved ones. These newly minted customers might go on to become repeat customers and the cycle continues.

Another way gift cards can get you exposure is by adding them as gifts to be won, say at your local charity function. You may add things related to your business like one of a kind limited edition hairdressing scissors, making the gift cards more desirable. Not only does it get you more customers, it also creates opportunities to advertise your brand. It's really a win-win situation. 
More Profit
Did you know that people tend to spend more when they have gift cards? According to statistical data, the average person spends over $30 more than the value of the gift card. Not only do you make more from gift card users, but the likelihood of the purchaser of the gift card spending more at your shop is at a 70% high.
Most salons see gift cards as low sellers. This perception is not true. Create awareness on the gift cards, spruce them up to look snazzy and worth every penny, give your buyers something unique and watch your bottom line increase. 
Increases Loyalty
This is a no-brainer. You can use gift cards as the central point in your reward program.  Here's how you win; you not only keep reluctant customers happy, fulfilled and satisfied with a gift card, you also increase your sales.  You should give gift cards for a specific amount of purchases, especially during the holiday season. This drives more traffic to your salon, and increase sales because the incentives to spend more increases as rewards get bigger. 
Do not limit your gift cards to just physical purchases, add them as e-gift cards on your website. Give people the option of purchasing them online, reloading them or transferring them as gifts to people who use your business' website. With this the possibilities are endless. You can get an intimate knowledge about your clients purchasing. 
Use Gift Cards to Drum Up Staff Morale


Companies usually have an employee discount. While you might not be able to afford that, giving your staff gift cards as a reward for their stellar work motivates them to do more.
Give offers to employee of the month, add them to the salary package of your  staff and give out discounted rates to families of staff. With all of this, not only will your staff give their best, you also get referrals from their families and friends. In the end, you create a staff reward program with gift cards that rewards your business too. 
Give Your Clients a Bang for Their Buck


In other words, make the gift cards too tempting to resist. Scout for creative and ingenious ways to create the best look for your clients. You can do this by creating a variety of designs and options for your clients to choose from. For higher value cards, give a complimentary box or just a branded satin bag or ribbon with your salon name printed boldly on top. Offer gift bags to place the cards too.
Most businesses make the mistake of printing higher end gift cards on a thin slip of uninspiring paper. That is a waste of time for your business, especially since gift cards are just that, gifts. Pay attention to the appearance of the card while also paying attention to other key factors. Sometimes the look of the card is enough to sell it. On a side note make sure that your terms and conditions are placed on the gift card in a discreet but obvious place. This is necessary to avoid any disagreement on the services being offered.