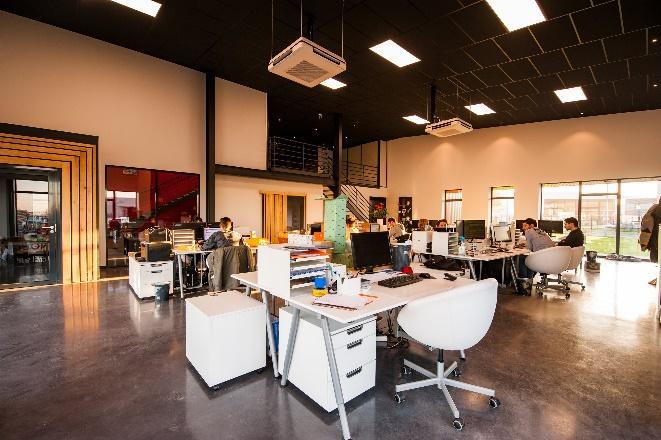 Our work environment impacts our productivity and efficiency exponentially. Many researchers have provided factual data to support this claim. People who work in a clean, cozy environment show a high rate of energy than those who are dissatisfied with their work environment.
Employees who are happy with their workplace's ambiance are inclined to be more creative with their ideas. They work in perfect harmony with their workmates and promote mutual growth because of their positive attitude.
Many startups don't pay attention to the environmental conditions of their workplace as they don't see it significant enough to impact their employee's productivity.
Their limited resources and finances might have spurred their carelessness towards their work environment. You don't have to be an expert to figure out that financial restrictions have little to do with a happy and clean work environment.
We have listed some of the various ways that can help you improve the climate inside your office:


Keep your office neat & clean

Let's start from the basics first that is the acquisition of a neat, healthy, and clean working atmosphere. It is the first and foremost thing that you can do to improve the working conditions of your office. It doesn't require you to overspend big bucks or plan to clean your workstation.
A clean and comfortable work environment promotes creativity and productivity as you feel appreciated and happy with your outside stimulus. It is befitting to say that cleaning changes from the responsibility of an individual and becomes the duty of a whole community when mental health is at stake.
Here, the community that is responsible for taking over the reign of the cleaning campaign in an office is first the owner and then its employees. Employees must do everything in their power to contribute to the cleaning campaign of your office.


Buy environment-friendly appliances


Everyone knows that electrical appliances have a terrible influence on the environment of our ecosystem. These appliances not only exhale the dangerous gases in our atmosphere but raise the temperature of your surroundings as well.
The more electrical appliances you'll install in your office, the higher will be the chances of you observing sudden spikes in your office's room temperature. If not sudden, you'll see a gradual rise in your office's temperature that can be countered when you promise to use energy-saving electrical appliances.
You don't have to invest much or change anything to be proactive in your "energy saving" campaign. Just reduce the consumption of electrical appliances that expel harmful gases in the environment and use alternatives like ac rentals and LED bulbs and lights.


Think about recycling


You should have adopted this practice since the beginning, but if you didn't then now is the right time to get to it. Use products that are recyclable and can be used at least once to save your resources. Most break rooms in offices use plastic or paper cups and plates for consumption, replace them with ceramic plate and bring your coffee or tea thermos with you on the work.
You can reuse these items by washing them immediately after you use them. Your office cleaner will have less trash to deal with every day. You can go the extra mile and separate recyclable waste with non-recyclable trash by depositing both in their respective dumpsters.
There are stationery items and plastic wastebaskets that should also be subjected to such scrutiny. Going beyond your work's climate and doing the most for your environment will create a positive workplace climate.


Promote ownership


If you haven't noticed already, we are covering two approaches to the office climate at once. First is the organizational environment and employees' behaviors in response to it and the other is the impact of our working routine and behavioral pattern on the atmosphere.
So far, we've discussed how reducing the consumption of electricity can help us screen not only the temperature of our office but the overall impact of it on our ecosystem. Now, we are going to discuss how owning your workplace is useful for the whole environment of your office and its implications on your productivity graph.
Once an employer gives their employees complete control over their workstation, they'll feel a sense of freedom and ownership. They will decorate their cubicle according to their preferences and aspirations.
Some might want to lace their family photographs on their table while others might prefer to decorate their workstation with the pop figures or with the merch of their favorite movie or comic franchise. The idea behind it is that you are allowing people to claim their spot and treat it as their own.
A psychologist will agree to this concept that when people receive ownership of things that they had considered temporary before, they'll work more to assert their credibility and worthiness over others. Furthermore, they will treat something that they own more carefully and passionately than anything else.


Don't neglect the recreational aspect


Who doesn't love a little bit of fun during their work hours to relive all the pent-up stress and anxiety? You can help your employees feel relieved by adding a recreational room in your office building. The climate of the office will improve immensely, and you'll observe a visible rise in the productivity of your team's performance.
Believe it or not, the mental health of your employees is a crucial factor that determines the success of your business, however big or small it may be. A happy employee is a dependable variable in the equation of your progress and independent variables like the workplace environment, your satisfactory rate with your employer and few other things set the mood of your office's environment.
If you want to improve the climate inside your office, then pay attention to the needs of your employees. These are living variables that set the mood of your office. Therefore, they should feel happy to work for you.


Temperature affects productivity


It might be the first time you'll hear about this, but this concept is nothing new or surprising. Whenever you sit down to work, you'll look for ways to feel the most comfortable in your place. Temperature is the most critical factor that can determine an individual's productivity.
Whether someone is feeling too hot or too cold, they'll think about their physical condition more than the task at hand. You'll find your employees arguing about the temperature of the thermostat and fixing their clothes time and time again to counter the temperature fluctuations in the office.
Surveys and researches tell us that almost two percent of the productivity is lost every day because of the mindless bickering of the employees with one another. An ideal temperature that guarantees maximum productivity from your employees is 71.6 Fahrenheit.


Promotion of Teamwork


By promoting teamwork, you'll improve the productivity rate of your business exponentially. Employees working in perfect harmony without any vile competition among them will increase the productivity of your office.
Individuals won't have anything to throw at each other which means they'll restrain each other from doing something stupid. Everything that an employer does from this moment on should be to facilitate the team bonding in their office.
They can arrange office dinners, parties, exercise lunches, and year-end treats to solidify the bond with their teammates.


Bottom Line:


Improving the climate of your office is easy when you know what habits to adopt and what ways to implement in different situations. Taking care of your office's atmosphere is the same as taking care of your ecosystem.