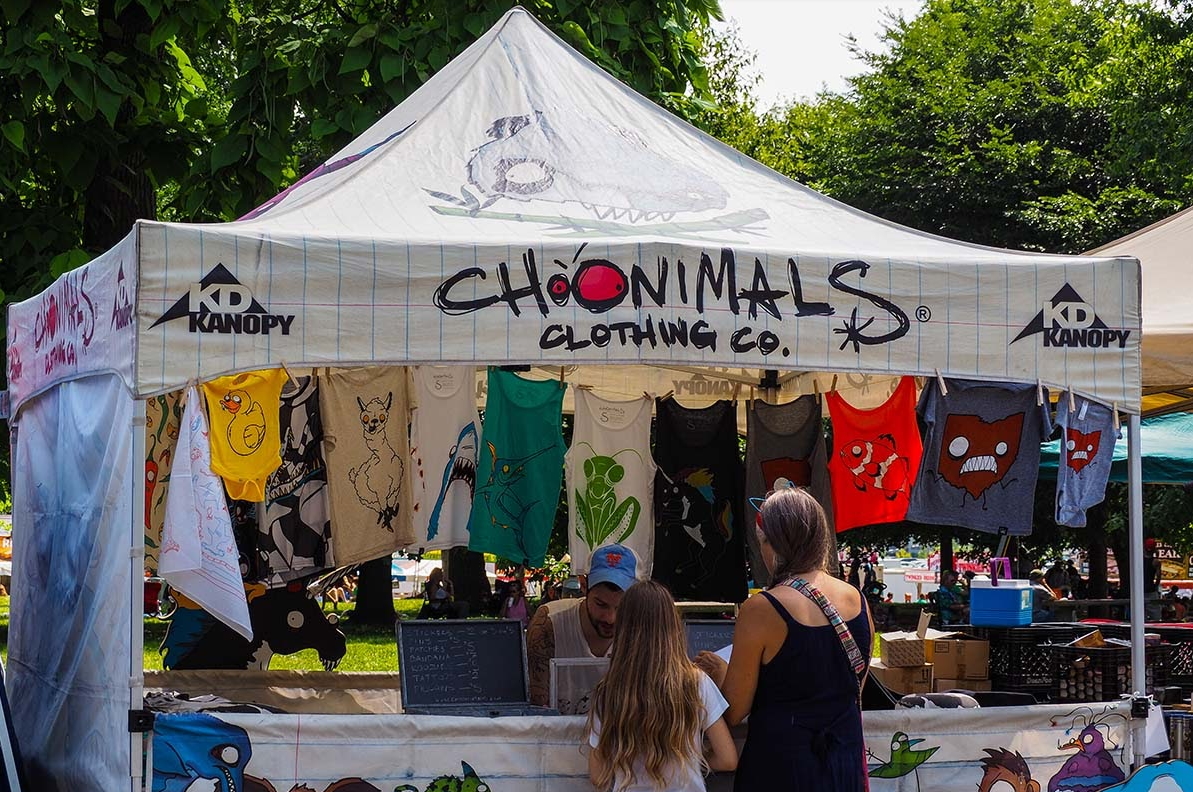 If you're a local business owner, you probably already know that outdoor markets are a great way to reach customers and sell your product. If you already have permanent premises, they allow you to target new customers in a different location. However, when you don't have a shop or showroom, markets provide you a low-cost sales space, especially if you use a printed marquee. 
At outdoor markets, the public will be making decisions about your brand based on how you present yourself. Thus, you'll need to present a professional image to make the best impression. To raise your game and optimise your sales results from your efforts at outdoor markets, a printed marquee could be a good option. 
Here are 5 benefits of using a printed marquee:
Promote Your Brand 
Stand Out From the Crowd 
The first benefit of a printed marquee is that it lets people know you're there. 
Markets are competitive; there are often several stalls selling the same or similar products. A marquee helps you stand out from neighboring stallholders and ensures that your products won't be confused with those of your competitors. It will also instantly give you a more professional appearance, making it clear that you're here to stay. 
Raise Your Brand Profile 
A printed marquee is a valuable tool in raising your brand's profile without the need to incur additional marketing and advertising costs. 
For the duration of the event, your brand is highly visible to the public. Pay attention to your design as it'll stay in people's memory even after the event. Even if they don't buy anything today, they'll recognise you the next time they see you, allowing you to expand your loyal client base.  
Use Your Imagination 
With today's printing technology, there's no limit to what you can add to the design of your printed marquee. Of course, you'll want to display your company name, logo, website, address, and a list of your key products. In addition to that, huge, high-resolution images and photos will grab the attention of passers-by and will differentiate you from the competition.  
Free Advertising Space 
Since a printed roof can be seen best from a distance, it can be used to attract customers in another part of the market. Printed side walls, valances, and backdrops are more visible to customers walking along crowded aisles, so encourage passers-by to stop and browse. 
Working with skilled designers, such as those at marquee and gazebo manufacturers, will ensure you make a maximum impact with your printed marquee 
Display Your Products 
Another of the benefits of a folding printed marquee is the flexibility you gain in terms of how you display your products. 
With a fixed market stall, you only have one choice. Stand behind a counter and arrange your products on it. On the other hand, with a folding marquee, you have many choices in terms of how you want to organise your sales space. 
You can place a folding table at the front of the marquee, in the traditional way. A printed valance can be used to provide additional advertising space. Or, you might prefer to place your table sideways so customers are encouraged to enter your 'shop' and browse. This gives a more intimate feel to your stall. 
Increase Customer Engagement 
A marquee helps you engage with those who choose to come in; you know that there's already a good level of interest and they want to know more. 
Depending on the size of your printed marquee, you can create L-shaped or U-shaped display counters. If you want, you can change the display set-up weekly to create interest and avoid people becoming bored. Or, you can choose a set-up that works best for you, and stick to it. This way, the appearance of your printed marquee display remains consistent and becomes part of your brand identity. 
Flexibility 
Another great benefit of a printed marquee at an outdoor market is that you can adapt it to changing conditions. You can add or remove walls and backdrops, depending on the weather. 
Do you want a cozy, enclosed feel, or do you prefer to leave it open to cooling breezes? Is there space for a small canopy to provide browsers with shelter from the hot sun or to keep them out of the rain? 
Increase Comfort 
In the end, the reason you're there is to sell more products. The more comfortable your customers and potential customers feel, the more likely they are to stop and buy. 
Each time you take your printed marquee to an outdoor market, you can make decisions about what you need to set it up on the day, hence it'll always work for you. 
More Time to Sell 
Extend Your Selling Time 
At outdoor markets, you only have a limited number of hours to sell. You don't want to waste that time and miss valuable opportunities. You could just unfold a table and set up your stall, or you could spend time attaching a banner to an existing fixed stall. But neither of those options is exactly the height of professionalism. 
As a solution, look for a printed marquee that can be unfolded and set-up in minutes, by one or two people, so you're ready to go. By doing so, your wow-factor will blow away the competition. 
Pack Up Quickly 
A printed marquee only takes minutes to take down and pack up, so you won't lose selling time at the end of the day. You can stay open for business until the last possible minute, then down it comes and you're away! 
They're So Versatile 
The final benefit of using a printed marquee for outdoor markets is that you're not limited to one venue. It can be used wherever you see a selling opportunity–street festivals, sports events, charity fund-raisers, and beach games. 
Indoors as Well 
Although we've focused on outdoor markets in this article, there's no reason why you shouldn't use your printed marquee at indoor locations. In fact, if a power source is available, being indoors gives additional opportunities to attract customers since you can decorate your printed marquee with attractive lighting. 
Go for Quality 
A quality printed marquee will serve you for years to come, making it a great investment. Choose a lightweight design with an aluminum frame, such as Metro or Weekender. Additionally, they're easy to load into your car and take anywhere. 
Overall, printed marquees can be an invaluable tool to help increase your sales at all kinds of markets!