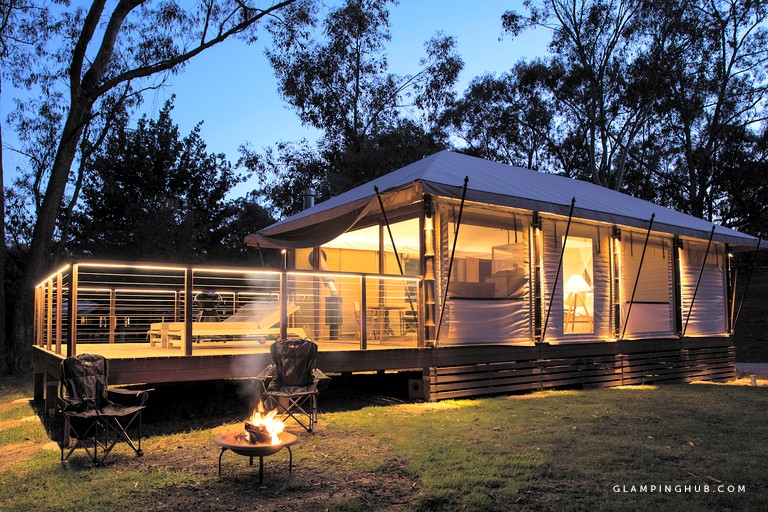 Glamping has been taking the world by storm since first being introduced a few years ago. Individuals are always looking for the next best thing. In the tourism industry, experiential travel is one of the hottest new trends. From a luxury safari tent to a grand tree house or a quaint tiny home, there is a glamping spot for anyone! And with summer just around the corner, there is definitely a need for planning the next holiday!
What is glamping some people may ask? Glamping stands for "glamorous camping". In other words, it is a form of camping that allows individuals to enjoy the natural world without losing any amenities of regular accommodation. You can check out some of the best glamping spots across Australia at Glamping Hub to get a good idea!
Of course, regular camping is the perfect getaway for those happy to rough it and looking for an adventure. However, glamping caters to a much larger audience. Travelers can experience five star accommodations while being surrounded by the most beautiful nature destinations. Furthermore, guests can choose to hike, fish, kayak etc. during their stay or visit wineries and local towns. Possibilities are endless!
Luckily, Australia is one of the leaders in the world for glamping accommodations. Each state is full of some of the most unique and breathtaking properties in the world. Whether staying close to home or popping across the country, folks can find one of these niche spots to holiday. 
Still not convinced? Check out these top four reasons why glamping should be your next summer holiday!
Once in a Lifetime Holiday
Glamping is such a special form of travel these days. One of the main qualities that makes an accommodation 'glamour camping' is the uniqueness of structure. These spots can be the typical bell tent or tiny house. However, property owners have become more and more distinct with their designs. There are now repurposed train cabooses and storage containers available for rent. Refurbished barns or campervans are also an option these days. Hosts of these spots will also occasionally give a theme to their accommodation such as a safari or cowboy. Honestly, the more unique the better!
Eco-Friendly
There are plenty of reasons why glamping is eco-friendly. Of course, not every structure is, but a lot of property owners will make this a priority. Many of these vacation homes practice eco remedies such as conserving water and electricity, using biodegradable laundry detergent or shampoo as well as incorporating compostable toilets. Also, glamping spots are often not permanent which does not affect the land as negatively as a resort does. Finally, since a lot of these accommodations are refurbished, it inherently cuts down on waste! 
Immersion into Nature and Disconnection
Camping has been around forever and is a favorite weekend escape for many adventuring souls. Yet, glamping is the perfect alternative for those who hate sleeping on the ground or not showering for a few days. This form of accommodation is the perfect balance of nature with luxury. There are glamping spots in the rainforest, on the coast and nestled into valleys just to name a few.  With the incredibly high focus on nature, folks who stay can disconnect if only for a night. Many glamping spots will not have wifi or service which lets individuals connect with those who they are with or fully immerse into the outside world. 
That being said, for those a bit uncomfortable with that sort of disconnect--most glamping accommodations will have wifi!
Diversity
As mentioned before, glamping accommodations are incredibly diverse and there is something for everyone. But, a common misconception with this kind of travel is that the stays can only happen in the summer. This is wrong. Glamping can be enjoyed every month of the year. Of course, staying at a beautiful beach safari tent on a warm summer night sounds ideal. However, cozying up in a tiny home next to the wood burning stove during a snow squabble also sounds like a dream. Every time of year there is a luxury stay waiting to be taken!
Remember to check out GlampingHub.com for all of your  unique, outdoor adventures. From domes to cabins or cabooses, there is truly a spot for every occasion.