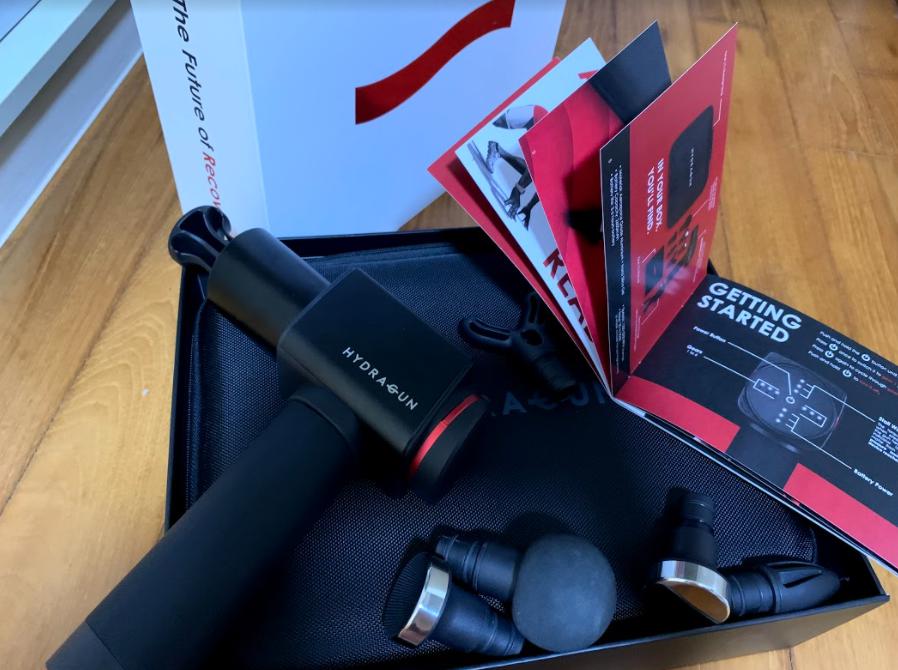 For almost a year, most of the global workforce has switched to a new remote work setting. With this new set-up, many people are now more prone experiencing body aches and pains for months. And their most common go-to quick fix? A handy massage gun. There is so much craze about it that most of my client friends too, who are now working from home, own one.
For some of my patients, they're waiting for the physiotherapy clinics to open to seeking professional treatment to recover from their musculoskeletal conditions. But unfortunately, we can't. We have to wait until the COVID-19 vaccine is rolled-out globally so we can all go back to the old normal.
A lot has happened in the past year that even physios like me are having a hard time coping with the changes in our work set-up. In physical therapy, we have to be physically present in the clinic, gym, or sports rehab facility to treat patients.
Nowadays, we only work twice or thrice a week in the clinic to give priority to in-patient hospital care. The remaining work is done through online consultations and guided virtual sessions for out-patient clients and patients.
Good thing that these user-friendly percussive devices were invented to create wonders in muscle recovery in the most portable way.
So, you might be wondering, what is a massage gun for, and is this backed up by good science?
The science behind the innovation
Massage guns use the mechanical oscillation of their attachment heads to produce superficial to deep tissue stimulation which follows vibration therapy principles. These vibration/percussive devices are considered revolutionary innovations of tapotement massage (manual cupping massage method).
A study showed that vibration therapy and massage proved to be beneficial in the treatment of delayed onset muscle soreness (DOMS). DOMS is the pain and stiffness felt in muscles several hours to days after unaccustomed or strenuous exercise. The soreness is felt most strongly 24 to 72 hours after the exercise.
What I believe is relevant to us allied health professionals is the conclusion in this study that stated "…vibration therapy shows clinically early reduction of pain." Because this would mean faster muscle recovery and pain relief for our clients.
Yeah, so recovery and reduction of pain, is there anything else?
Here's my top 10 list that will stir up your interest in owning this science-based innovation.
Top 10 health benefits of using a massage gun
Improves blood circulation

Lactic acid (pain and spasm-inducer acid) breakdown

Prevents scar tissue formation

Decreases muscle spasm or tension

Pain relief

Improves muscle and joint flexibility

Faster recovery of soft tissue injuries

Promotes relaxation

Radiant skin

Enhances overall wellness
Imagine experiencing these things from head to toe, and how awesome it would feel to destress using a massage gun. It's like chillin' on a beach on a nice sunny day. Relaxing, right?
As physios we want our patients to enjoy these benefits right in their own homes. So, it falls to us to determine the best percussive device to recommend to our clients.
What do physiotherapists look for in an effective massage gun?


I have been hearing good reviews about a new brand of percussion device. This brand was highly recommended by a techy friend who's into smart technology.
Well, he told me the good stuff, but me being a little skeptical was challenged by his too good to be true review. To cut the long story short- I got myself a Hydragun. I want to find out if this device will meet my expectations as a physiotherapist. So, here's how Hydragun fared based on my criteria.


Is it lightweight and handy?
I wanted a device that will not trigger my CTS or carpal tunnel syndrome. And I wanted it light enough to use for 10-15 minutes treatment duration for an affected area.
At 2.3 lbs (1 kg), Hydragun isn't too heavy for the 10–15-minute massage session required. I also think that the weight-to-power ratio makes sense. As a physiotherapist who sees several clients a day, this device's weight doesn't place too much stress on my hands.


Does it have a professional look and feel?
Just because something is cost-effective doesn't mean it has to look cheap. I for one would want my clients to feel that I'm willing to spend on premium equipment. And because I wanted to give the best quality treatment they deserve.
Hydragun's design has one button for all its functions (quite user-friendly and very straightforward). It may be a little confusing at first since my thumb covers the power indicator lights. But I soon got used to it and got more familiar with how it works.
Its ergonomic, 99-degree design allows a smooth glide to the hard-to-reach areas without putting too much stress on the forearm. And the silicone-wrapped handle looks cool. It also gives that easy firm grip. And it doesn't transfer the vibration of the motor to the wrist and hands. Ugh! Such a convenient way to avoid CTS.


Does it promote a personalized treatment approach?
"Different folks (or blokes) have different strokes" is the mantra of physical therapy. Each person has different pain thresholds and needs when it comes to recovery. This is also why we require thorough medical checks and review patients' medical history before treatment.
Hydragun allows you to choose from 6 speed/intensity levels to suit each patient's needs. Additionally, the 6 detachable massage heads target specific muscle groups. Again, I like how you get a personalized massage experience.


Does it hit the trigger points spot on?
A trigger point is a localized, painful muscle area that triggers pain elsewhere in the body when stimulated.
Hydragun has a 12mm amplitude (vibration/oscillation power), and using the appropriate attachment head, hits the trigger point spot on. Amplitude refers to the depth every "punch" goes and this device gives just the right amount, in my opinion. It easily gets to those trigger points, unlike foam rollers that can be cumbersome to use.


Is it quiet enough to promote a relaxing therapy session?
As a physiotherapist, I don't want to use a massage gun that is as loud as a jackhammer. It will scare most of my elderly and non-athletic patients. They may not want to include such a device in their PT sessions.
Hydragun's sound range is at 30-50 dB which is softer than the hum of a refrigerator. Even at its highest speed (level 6 at 3200 RPM), I can still have normal conversations with my patients. If it wasn't vibrating on the body part that is being treated, a patient will hardly notice that is turned on.

Finally, a few more points
On top of the things, I shared above, I also like the part that Hydragun found a good balance in cost and quality. Which gives buyers value for their money.
I thought at first, it was just all hype because of how influential the reviews on social media platforms are. But after experiencing the real deal, I have nothing but good words for this quality percussive device brand. Could this possibly be the best massage gun Australia has to offer? Only one way to find out, right? Get your own Hydragun.
Had to admit that this is not just a craze. This might be the next best gadget you'll ever have other than your mobile phone. We'll hop onto the trend and share some comments or your rave reviews about it.