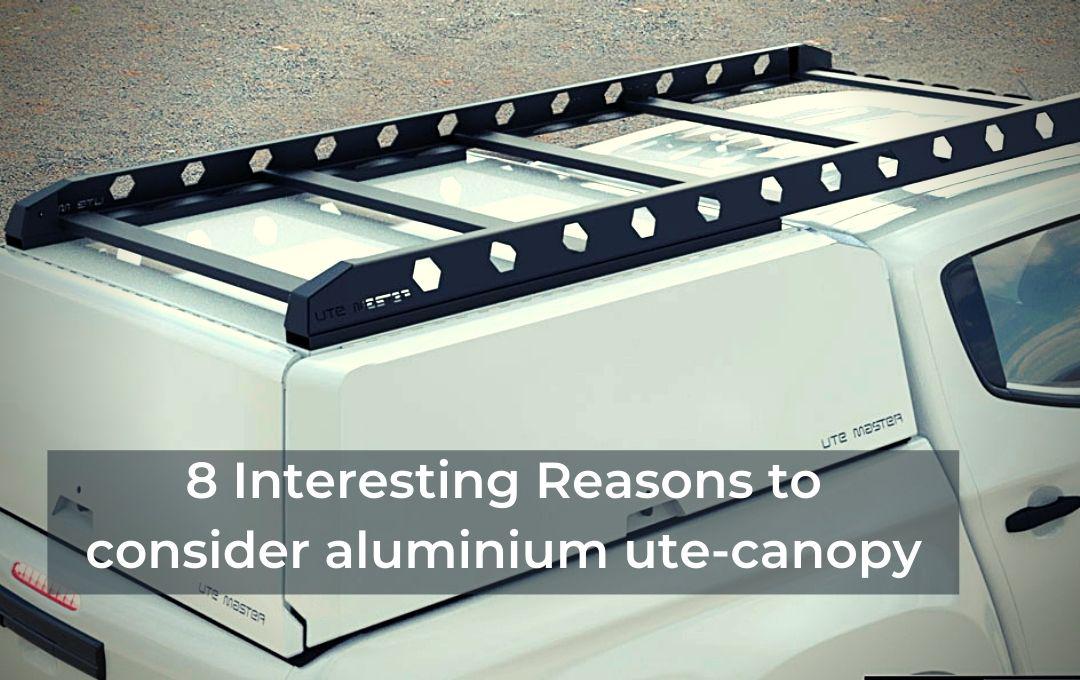 Aluminium ute is a sort of a utility vehicle.
Aluminium ute-canopy is any tub/tray mounter structure or any chassis with walls, roofs, and access points that could be doors or windows. The cost starts from around 2000$-2500$.
Aluminium ute canopy makes your camping or travelling trip easier by storing or transporting camping gear, tools, and other equipment in the tub/tray.
Here, we have listed 8 interesting reasons to consider an aluminium ute-canopy.
Protects goods
While you're on the road transporting goods on your Ute, there are chances of weather conditions damaging your goods.
Uncovered stuff is prone to damage easily while travelling. An aluminium ute-canopy plays a significant role and protects your goods from harsh weather conditions.
They are well built and can withstand all kinds of weather conditions. Snow and rain would be unable to cause any damage when your goods are stored under the safety of an aluminium ute-canopy.
Easier to carry weight
Installing an aluminium ute canopy makes it very easy to carry weight and transport things from one place to another.
It ensures effortless transport while still giving importance to security standards.
The lightweight of aluminium is an added benefit.
Durability
One of the biggest advantages of going for a canopy made of aluminium is durability.
Aluminium is an extremely durable material which makes it a great investment that is beneficial for the future.
Rusting is minimized when the canopy is made out of aluminium as compared to all the other types of metals.
An aluminium ute-canopy is highly resistant to wear and tear. Paint the canopy every two or three years to sustain the brand new look.
A significant degree of functionality
Aluminium ute-canopy provides a significant degree of functionality to your vehicle.
Large vehicles, more often than not, are usually used for work purposes. The designs are flexible and customizable according to your work needs, and the installation process is easy as well.
You can further add trays to organize all your products. Varied types of trays in all shapes and sizes are available in the market.
Increased storage capacity
Regardless of whether you are an avid camper or tourer, having additional storage is always handy and beneficial. By adding an aluminium ute-canopy to your Ute, you can be assured of additional space.
In addition, if you want to transport heavy items like furniture, then an aluminium ute canopy is your best bet.
For avid campers who are not big fans of sleeping outdoors, the canopy could also be transformed into a makeshift bedroom.
Make the most out of your camping experience by getting an aluminium ute-canopy that ensures extra storage, seating, and sleeping place.
Requires less fuel
Since an aluminium ute-canopy is lighter when it comes to weight, the fuel required for the vehicle to function is also less.
With the constant development of technology, there has been a dramatic improvement in fuel efficiency.
Enhanced aesthetic appeal
It is normal to desire to own a vehicle that is aesthetically appealing to the eyes. Moreover, many car owners often focus a great deal on the visual appeal of their vehicles.
Attach the canopy to the bed of your Ute to give it an aesthetically appealing look.
You also get the opportunity to install additional accessories like lights and cameras for your next big adventure.

Customization is also available for people who have extra needs. Contact your manufacturer and address all the specifications that you'd want in your aluminium ute-canopy.
A better financial choice
Since the aluminium ute-canopies are lightweight and have the capacity to function on less fuel, you will be saving a lot of money on fuel. Thus, making it an economical choice.
Should you plan to sell your canopy in the future, one of the best ways to enhance your truck's resale value is by adding an aluminium ute-canopy.
An aluminium ute-canopy is one of the best investment choices.
Things to keep in mind before buying a ute-canopy
So you have decided on adding a ute-canopy to your vehicle. Here are things to keep in mind before choosing the right ute-canopy.
Type of car: Take into consideration the type of car you have. There are numerous options available based on the car type. The size of the cab is important while buying a ute-canopy. Consult a credible fabricator if you are unsure about the size. They'll help you choose the right type of canopy.
Material: One of the key factors to consider is the material. Opt for an aluminium ute-canopy since it is durable and lightweight.
Colour: Powder-coated colouring is one of the most popular options. It gives a seamless finish to the canopies. Powder-coated colouring also lasts for a longer duration.
Branding: If you are a business owner, then consider branding the canopy for marketing purposes. Based on your business requirements, you can also customize and decide on shelves, drawers, and windows.
Cost: Aluminium is approximately 30 per cent more expensive than mild steel, but aluminium also has a better resale value. Prices range anywhere from around $1500 for an aluminium ute-canopy that you have to fit yourself to around $5000 or more for an off-the-shelf aluminium ute-canopy. You can always opt for a second-hand product but buying a brand new ute-canopy is always recommended for its extended warranty and guarantee.