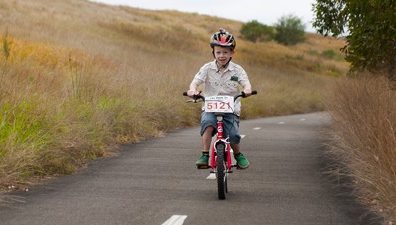 Bikes are a popular way to enhance your children's motor skills. Not only are they a way for them to gain some much-needed exercise, but they are also an excellent way of exercising.
However, before you buy your child a bike, there are some things you need to know. Read on to find out all you need to know before getting your kid their first bike.


What is the Best Age to Buy Your Kid a Bike?


If you are a long-sighted parent, then you probably would have gotten your child a tricycle or balance bike when they were quite young. But how do you know they are ready to transition to real bikes?
Kids as young as two years can use a balance bike or a tricycle. Those are the safest options for toddlers at that age. However, when they hit four years or more, they should be ready for a real bike.
Of course, it will depend on how their progress with the tricycles and balance bikes. Most kids will have developed enough coordination and balance to ride a bike by age six or seven.
Late bloomers may take a longer time to get ready for a real bike. Some might not be ready for their first ride on a real bike until after ages ten or eleven. You, however, are the best-placed person to judge whether your child is ready or not.

What Are You Supposed to Look for in Kid's Bikes?


You need to look for several things in kid's bikes to ensure you get the best option for your child. Below are the things you need to look for.


The Right Size and Height
This is one of the most important things to look for in a kid's bike. You have to remember that you aren't buying a bike for an adult. It, therefore, needs to be the right size and height for the kid.
That will mean going for fairly low bikes if the toddler is relatively young to a high bike, depending on their height. It will therefore require you to make use of a sizing chart before buying that bike. You don't want to get a bike that your kid has to wait a few years to use.


How safe is the Bike?
Safety is always a top priority when getting a bike for your child. A safe bike will give you peace of mind knowing the chances of your toddler hurting themselves are significantly low.
So how do you determine a bike is safe? A safe bike for a toddler should be the correct size. The toddler shouldn't struggle to put their feet on the ground while seated on the bike's seat.
Helmets also come in handy in bike safety. Don't ever buy a bike that doesn't come with a helmet. Although rare, there are some instances where you get such bikes.


The Weight of the Bike
When looking for a kid's bike, it is crucial you get a light one. No kid would be comfortable riding a bike that weighs more than they do. Besides such a bike being had to raise to a standing position, it could be manoeuvre.
While most bikes are quite heavy, you need to look for one that is light as possible. Considering your child will be only starting riding, they need the most lightweight bike.


The Potential for Longevity
Because kids are constantly growing, you might find yourself in a dilemma over whether to buy a bike when they are younger or older. Some people end up buying bikes for each stage of the kid's age.
But do you always have to do that? No, you don't. There are bikes with unique designs that mean they would last quite some time. Of course, the bike cannot last many years as growth is a must.

These bikes, however, have particular designs such as movable seats and a longer wheelbase that factor in the growth of the child's body. These are some of the things you need to look for to be sure a bike lasts some time.

Why Buy a Bike for Your Kid?


Your kid will benefit from having a bike in various ways. Below are some of the reasons why you should buy your kid a bike.
Exercise and Fun
Kids, unlike adults, wouldn't want to go on a run to exercise. Biking is one of the best ways to make them active and have them exercise. Riding a bicycle is exercising disguised as fun for the kids.
You can use it as a way to teach your child the benefits of exercising from early on. They will undoubtedly remember this when they grow up. The bonus is that you will finally be able to get them outdoors more.


Bikes Enhance the Learning Speed of Kids
Learning how to ride a bicycle will enable your kid to develop their motor skills and develop physically. Researchers say that kids who use their bikes to get to school are more responsive to lessons than kids who do not.


Bike Riding Will Boost their Physical Growth
Bike riding promotes mental development and boosts the physical growth of your child. Their cardiovascular system benefits from the exercise that is bike riding while their muscles develop endurance.


It Solidifies Your Bond with Them
Any parent can agree that there is no greater satisfaction than seeing their child learn how to do something. Teaching your kids how to ride a bicycle will help them learn to do something new and enable you to bond with them.
Most kids who have their parents participate in their lives tend to turn out better than those who didn't have that opportunity.
Bikes are a fundamental part of most kids' lives and can be instrumental in developing fine motor skills. Your kid will benefit hugely from owning a bike. Therefore, if you can get one for your child, then, by all means, do.