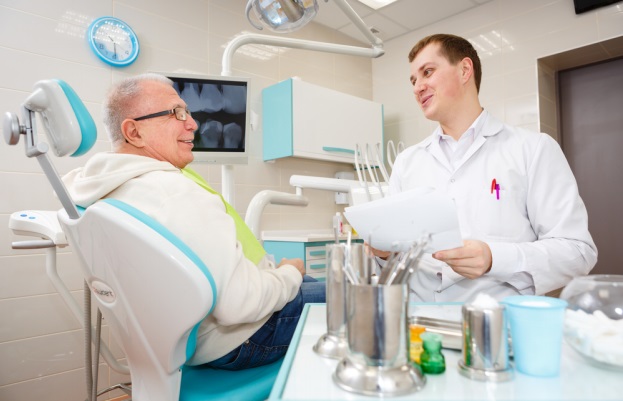 Dental care is important; no matter what stage you are at in life. However, things do inevitably change with age and this makes it necessary to customise your approach. Sometimes, it can be easy enough to take our teeth for granted; that is until they are suddenly affected by decay and deterioration.
So, how can you keep smiling long into your 'twilight years'?


Understanding 'yellow' teeth
It's natural that your teeth will discolor more as you get older. Don't panic, there are a number of teeth whitening kits that can help solve the problem (see paragraph below). The 'yellow factor' that you might notice is actually due to a combination of genetic and environmental factors. You see, teeth are composed of several layers. This inside area, known as 'dentin' can sometimes show up under the 'enamel' (this is the top layer of your teeth which usually becomes more thin and transparent over time).
This creates a yellow look that may be worsened by stained enamel itself. If you drink a lot of tea/coffee/red wine and smoke cigarettes/tobacco, this will be intensified. What you have here is a compound effect. Unfortunately, this means your teeth will no longer resemble anything that could be conceivably recognised as 'white'!


Getting back your 'gleaming grin'
Now, how to get back that 'gleaming grin'? Well, most dentists, providers and their patients turn to teeth whitening (as mentioned above). The good news is that there are a number of teeth whitening kits and services on the market that can be used to combat a problem with discoloration. So, you can opt to pay for the service at your dentist - in what is commonly known as 'in-chair teeth whitening' - or, you can 'DIY it' from the comfort of your own home.
Whatever option you chose, you can look forward to some lovely white 'toothy pegs' at the end of the process. You may experience a little discomfort but this is mostly due to the awkwardness of having to wait for the product to work (there is no actual physical pain involved). At home whitening kits can save you a lot of money and these days are so fuss-free, with applications now even formed in the shape of a pen for ultimate ease-of-use.


Important caveats
However, there are some important caveats for effectiveness. One is to use only those products that contain dental-grade teeth-whitening formulas that are compliant with all safety standards and the Australian Dental Association. That means you will get instant tried-and-tested results anywhere up to 12 shades lighter than your original tooth shade.
Another is to keep in mind that this does become less effective as you get older (like most things about the body that sadly become less resilient and less responsive as we age) and that some stains may be more stubborn than others. Also, you may experience some sensitivities. That being said, testimonials show that you will still enjoy great results overall. So, yes white teeth can be yours once again!


Your complete dental health
Whilst solving the problem of discolored teeth will make you feel a whole lot better, there is always the need to go deeper in addressing your complete dental health. Regular check-ups at the dentist are absolutely essential. You may want to set yourself regular reminders to do so. Going to the dentist isn't anyone's idea of fun, but these visits get even more important as you get older in ensuring a preventative level of care.
Dental care also doesn't just stop at your teeth, so you will also want to take care of those gums. Keep periodontal disease (and those scary dentures) at bay by paying close attention to plaque build-up between the tooth and gums. Employing proper personal care for gum disease is your best weapon against this 'plague of plaque'. Issues are preventable at any age for scaling to remove hardened plaque and infected gum tissues, a course of antibiotics and (in some cases only) surgery.
~
In conclusion, higher instances of gum disease, mouth infections, and inevitable tooth loss occur after the age of 65, alongside a list of other dental related ailments. Plus, a lot of people get concerned about those 'yellow teeth'. However, it's not all bad news for you and your teeth as you age. Teeth whitening, preventative care and - of course - those regular dentist check-ups will keep a 'smile on your dial' no matter the 'miles on your clock'!