Written by

Ian Wright, Senior Lecturer in Environmental Science, Western Sydney University
This week Melbourne's water storage dropped below 50%, a sign of the prolonged and deepening drought gripping eastern Australia. Sydney is only marginally better off, at 53.8% of full storage.
Along with many regional towns across southeastern Australia, the two largest capital city water supplies are steadily shrinking.
But while Melbourne's water levels are lower, if we look at the last 12 months we see another story: Sydney has plummeted from 72.3% to 53.8%, while Melbourne has only dropped from 58.9%.
Melbourne's average residential water consumption is 161 litres per person per day. In Sydney, for 2018, it was 210 litres per person. That is nearly 50 litres more per person – a difference of about 30%!
So why do Sydney residents use so much more water than people in Melbourne?
Sydney is thirsty
Sydney is using far more water than experts predicted. In March 2017, Sydney released a Metropolitan Water Plan. Among the glossy pictures is a graph that indicates how thirsty Sydney is.
It predicted that by 2018, Sydney would be using around 550 gigalitres (GL) a year. But Sydney's actual 2018 consumption was 600GL, far higher than the "high use" estimate.
In fact, back in 2017 experts thought Sydney would only need 600GL for normal use in 2040, when the population would be far higher.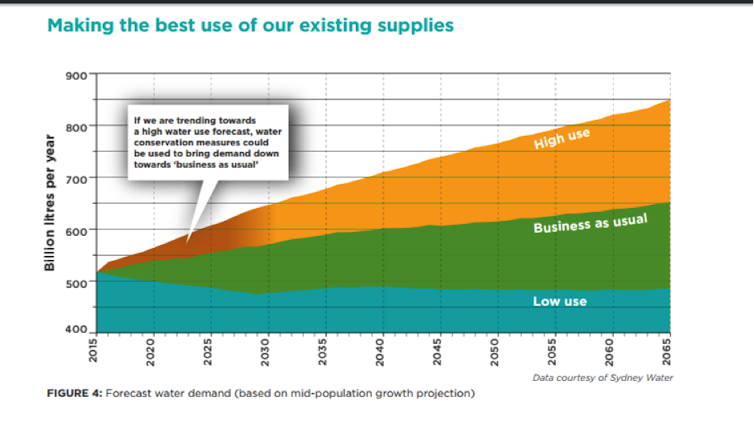 Sydney's actual water use is shown below. Crucially, the 2016 mark – where water use begins a sharp increase – is the same time water prices in Sydney fell by 13.5% (more on this in a moment).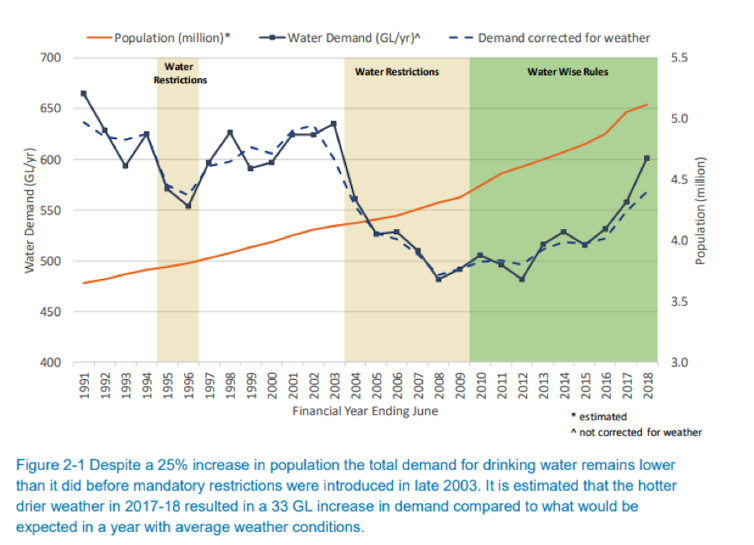 Authors: Ian Wright, Senior Lecturer in Environmental Science, Western Sydney University
Read more http://theconversation.com/why-sydney-residents-use-30-more-water-per-day-than-melburnians-117656