Written by

Sharon Parkinson, Senior Research Fellow, Centre for Urban Transitions, Swinburne University of Technology
Homelessness has increased greatly in Australian capital cities since 2001. Almost two-thirds of people experiencing homelessness are in these cities, with much of the growth associated with severely crowded dwellings and rough sleeping.
Homelessness in major cities, especially severe crowding, has risen disproportionately in areas with a shortage of affordable private rental housing and higher median rents. Severe crowding is also strongly associated with weak labour markets and poorer areas with a high proportion of males.
These are some of the key findings of our Australian Housing and Urban Research Institute (AHURI) research released today.
Read more: Why Australia's homelessness problem is getting worse, despite a rise in housing stock
Extending previous AHURI work, we combine 15 years (2001-2016) of homeless estimates from the Australian Census, other customised census and the Australian Institute of Health and Welfare's Specialist Homelessness Service Collection (SHSC) data.
People counted as homeless on census night live in: improvised dwellings, tents or sleeping out (rough sleeping); supported accommodation; staying temporarily with other households (i.e. couch surfing); boarding houses; temporary lodging; or severely crowded conditions.
How has the geography of homelessness changed?
Nationally, 63% of all homelessness is found in capital cities. That's up from 48% in 2001.
Shares (%) of homelessness and population by area type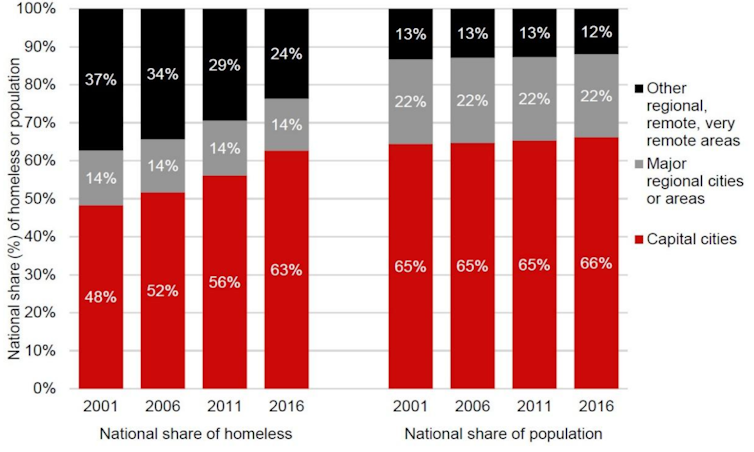 Authors: Sharon Parkinson, Senior Research Fellow, Centre for Urban Transitions, Swinburne University of Technology
Read more http://theconversation.com/homelessness-soars-in-our-biggest-cities-driven-by-rising-inequality-since-2001-117833