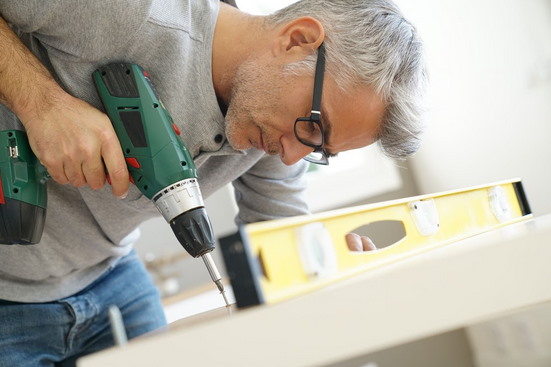 Carrying out DIY home repairs will not only save you a lot of money on expensive contractors but it can give a great sense of achievement. Learning to fix small problems in your home will give you the confidence to move on to more complex DIY tasks over time. To get better at DIY, you need to be willing to try things out, fail and try again. However, you also need to ensure that you have the right tools for the job. 
DIY home repairs cover a huge scope of different types of work. From plumbing to electrics, to roof repairs, carpentry, joining, appliance technician, and so much more, there is a never-ending list of DIY fixes that homeowners can take on. As any DIY enthusiast will tell you, it's important to have some essential tools in your toolbox. With a few basic tools, you can carry out the most common household repairs. Over time as you take on more challenging DIY repairs, your collection will inevitably grow, ensuring you are always prepared if there is a problem in your home. 
Let's take a look at a few essential tools that you should always have to hand to carry out common household repairs. 
Cordless Drill
A drill is an incredibly versatile piece of kit and once you have one in your toolbox, you will wonder how you ever did without one. A cordless drill offers a much better experience allowing you to move around freely without worrying about tripping over wires or accidentally drilling through them. 
Hammer
No toolbox is complete without a hammer. Of course, you can use a hammer to drive nails so you can hang up paintings and do other odd jobs around the home. However, a hammer is useful when something needs a little more force to be put into place securely or to be removed from a secure position. 
Screwdrivers
Screwdrivers are crucial tools in many DIY home repairs. From fixing appliances to changing plugs and repairing the furniture, screwdrivers are absolutely essential. There are two common types of screws; flat head, the one with a single line and Philips, which has a cross on the head. It's best to arm yourself with a screwdriver set that includes both Philips and flatheads in multiple sizes as screws come in different shapes and sizes. 
Adjustable Wrench
Particularly useful in dealing with plumbing issues but equally useful in fixing the kids' bikes, an adjustable wrench is crucial for any DIY enthusiast to carry out repairs effectively. While you can get wrench sets, which will do the same job, if you lose one or two of the wrenches or they are damaged from wear, you will be limited in what you can do. With an adjustable wrench, you will always be able to get a tight grip, regardless of the size of the nut or bolt. 
Tape Measure
From finding the best spot for the new dining table to marking out where to cut on the replacement doorframe, every home should have a quality tape measure. When you are doing any DIY work, the golden rule is always "measure twice, cut once". Always keep a tape measure close by when you are doing DIY home repairs to ensure your work is precise and completed well. 
Ensure You Have Access To The Essentials You Need For DIY Home Repairs
When you're doing DIY repairs at home, you want to be sure that you get the best results possible. To be able to take on a range of common household repairs successfully, it's important that you
have the essentials
you need in your toolbox. With the tools listed above, you will have everything you need to start doing DIY repairs in your home so you can start looking after your home yourself and save money on expensive contractors moving forward.