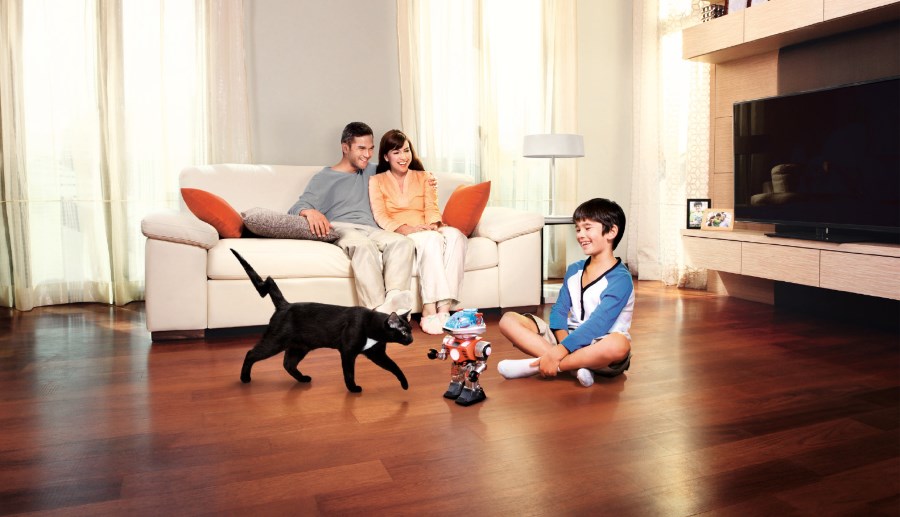 Whether it's roll, crawl, walk, run or climb, children can't help but want to move. Nowadays, their favourite toys can move too, and with increasing mobility thanks to technology – which can also provide huge benefits to children's development.
"A well-selected range of toys will encourage children to explore the world around them in different ways, stimulating development of all the senses," explains Professor Jeffrey H. Goldstein of the University of Utrecht, Netherlands.
Indeed, more than a quarter of the top 20 kids' Christmas gifts last year recommended by the Toys "R" Us official toy testers (who are children themselves) were battery operated. This prompted EVEREADY® to advise parents to consider the inner workings of their toys, as failing to care for them properly can prove a costly mishap for millions of parents.
In 2012, 75.5 million batteries were sold in Australia specifically for use in children's toys, and accounted for 19 per cent of all battery sales nationwide – that's 2,280 tonnes worth of batteries just for toys. This figure has consistently increased year on year, and is predicted to hit over 99 million batteries sold in Australia in 2019, which shows the increasing popularity of battery-operated toys.1
The bulk of these toys sit around the $200 mark, but can easily range from $35 to over $600 depending on the particular item. This year, 86 million batteries used just in toys are expected to reach their end-of-life,2 and batteries have an average chemical life expectancy of 1.8 years when specifically used in a toy.3
However, a leaking battery can lead to the premature end of the toy's life, so it is wise to invest in a battery with a quality seal – much like putting premium unleaded petrol instead of regular.
"Play isn't simply a pass-time. It's a crucial part of a healthy childhood," says Jodie Benveniste, psychologist, author, and ambassador for the Value of Play campaign by the Australian Toy Association. If a child's favourite toy has stopped working tears and tantrums can abound.
Gabby Anderson, Executive Manager of the Australian Toy Association, advises that when looking for a battery for your toy, it's important to look for quality batteries for trusted power that will ensure your child's toy effectively remains 'fit and healthy' for as long possible.
"Although it can be tempting to go for a cheaper option when powering your children's toys, especially when the toy itself can already be so expensive, it is even more important to choose a quality brand you can trust that won't leak," she says.
This investment can reap benefits well into the future on the collectables market, where Japanese toy robots can sell for up to $50,000 each.4
Additional cleaning tips to keep your toys in top condition:
Whether plastic or fabric, toys with batteries cannot be immersed in water.
Remove the batteries when possible and dip a cloth into some hot water and detergent. Wring the cloth out thoroughly and then wipe firmly over the toy, avoiding the area around the battery compartment. Use a tea towel or cloth to dry the toy as much as you can and leave it to air dry completely before using again.
EVEREADY Gold® and EVEREADY® Super Heavy Duty batteries are available in leading Grocery, variety and stationery retailers.
About:
Since 1896, EVEREADY® batteries have been providing dependable portable power.
EVEREADY Gold® is the dependable solution that provides power for you and your family's everyday power needs. EVEREADY Gold® brand offers a complete line of AA, AAA, C, D and 9v products and are ideal for low to mid-drain devices such as, remotes, radios, calculators and motor driven toys. 
EVEREADY® Super Heavy Duty is the affordable solution that provides power for you and your family's basic power needs. The EVEREADY® Super Heavy Duty brand offers a complete line of AA, AAA, C, D, 9v and 6v lantern batteries, and is an economical choice for clocks, flashlights, radios and other devices that are low drain.