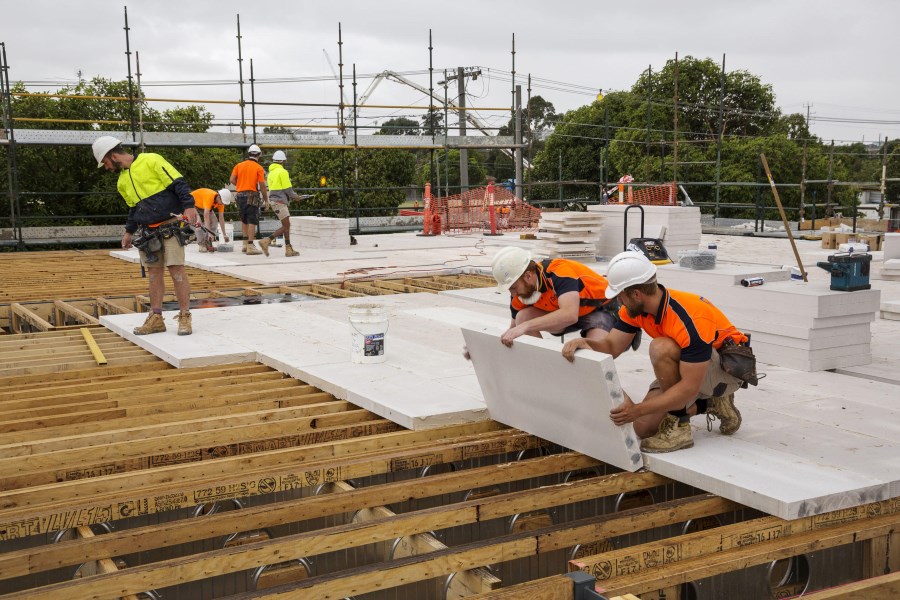 Big River Group has expanded its AAC offering with MaxiFloor, a new Autoclaved Aerated Concrete flooring product that provides a superior flooring solution by utilising its strength and excellent airborne noise transmission properties resulting in a quiet floor without the squeakiness, bounce and flex that you find with particleboard flooring.
The launch follows MaxiWall, which was launched nationally in Australia in September 2017. Similarly to MaxiFloor, MaxiWall is a cost-effective, sustainable AAC product with excellent structural, soundproofing, and fire resistant properties.
"We are confident in the continued growth of AAC's popularity in Australia and believe that MaxiFloor will join MaxiWall as a product of the future," says Jim Bindon, Managing Director of Big River Industries.
"With superior thermal insulation properties, MaxiFloor will keep your house warmer in winter and cooler in summer reducing overall energy costs and all at a significantly reduced cost compared to a traditional concrete slab floor."
MaxiFloor is available in 75mm and 50mm thick panels providing an ideal base for almost any floor covering including timber, vinyl, carpet and tiles, and is suitable for both internal and external applications such as decks and balconies.
It is installed in a similar way to conventional particleboard by existing installers (carpenters), and is
non-combustible so can also be used in many applications that require specific fire ratings.  
Manufactured from cement, sand, lime and water, MaxiFloor is aerated by adding an expanding agent to the mix. The result is a steel reinforced concrete panel filled with small, finely dispersed air bubbles, which is both strong and lightweight and resistant to termites and vermin.
MaxiFloor is also a pollutant free building material, sourced from world class production facilities using German technology and automated processes to ensure every MaxiFloor panel is of optimum quality and consistency. By using reduced raw materials it helps reduce around 30 per cent of environmental waste compared to traditional concrete and 50 per cent of greenhouse gas emissions.
It is fully compliant with current Australian Standards. It is wholly owned and exclusively distributed in Australia by Big River Group, supported by the company's 13 outlets.
For more information visit
www.bigrivergroup.com.au/maxifloor
About Big River Group
Big River Group manufactures and distributes timber and steel formwork products, timber flooring, structural plywood and related timber products, and distributes a broad range of other building products, including MaxiWall, primarily to the commercial and residential, non‐residential and infrastructure construction market segments.
Big River owns and manages 13 sales and distribution outlets including Sydney, Gold Coast, Brisbane, Sunshine Coast, Townsville, Illawarra, Melbourne, Hume (ACT), Adelaide and Perth. The Company also owns and operates manufacturing facilities at Grafton and Wagga Wagga in NSW.
Big River provides customers with the security of a full support network, and technical expertise at every stage of the product lifecycle. This is the guarantee of quality and service that Big River has based its 110 years of success on.