Overhead cranes are equipment used for lifting and moving heavy items in various applications ranging from construction and storage to automotive and shipping. They are highly useful for handling different materials like cement, metals, and so on. 
In today's time, an overhead crane has become an essential piece of equipment. They are used quite commonly in mining, recycling, steel fabrication, and many other industries. Due to the increase in the complexity of activities carried out in several industries, the use and importance of overhead cranes have grown significantly. A rise has been witnessed in the number of overhead crane manufacturers.
These cranes can be used for moving items from one place to another within the same work area as well as one work area to another. They can also be used for filling machines with raw material at manufacturing or processing plants. Loading and unloading materials are two of the most popular uses of an overhead crane. 
When it comes to places like railyards and shipyards, overhead cranes are used for lifting and moving containers. Manufacturers choose these cranes and others due to the benefits provided by them. They are more efficient than human beings and tow motors for moving materials. Overhead cranes can operate faster than tow trucks and other equipment used for activities like lifting, moving, loading, and unloading. 
Along with being efficient, overhead cranes are also safe. They can handle demanding and challenging environments. Materials that are risky or corrosive in nature can be moved easily by overhead cranes. Chemicals and iron beams are a few examples of these materials.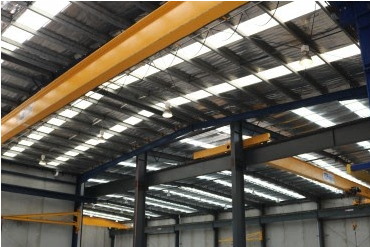 Overhead Cranes: Types, Components, and Benefits 
An overhead crane offers several benefits to users, such as streamlining of workflow, decrease in damage, reduction in costs, and decline in the number of accidents. Every overhead crane has various parts and components, depending on its type and design. 
Bridge cranes, gantry cranes, monorail cranes, jib cranes, and workstation cranes are different types of overhead cranes. The configurations of a crane vary from one type to another. It's important to choose the right type of overhead crane for your purpose.  
A bridge crane can be further divided into two types: Process Bridge Cranes and Modular Bridge Cranes. They run on a runway that is built into the support structure of a building. Bridge cranes are available in single and double girder configuration. In a single girder bridge crane, one girder beam is there, which is supported by an end truck on each side.  
In a double girder bridge crane, two girder beams are there. Both of these beams are supported by an end truck on each side. Process cranes are ideal for heavy-duty applications. They are utilised in environments where they have to run almost constantly. These cranes have a double girder configuration. You can find process cranes at lumber mills, steel plants, container yards, and other places.  
On the other hand, modular bridge cranes are used in light-duty applications, such as small machine shops and manufacturing units. One of the reasons responsible for the fact that modular cranes are used widely is that they are a low-cost option as compared to many other types of cranes.  
Just like bridge cranes, gantry cranes also have sub-types. Different types of gantry cranes are full gantry crane, semi-gantry crane, portable gantry crane, and adjustable gantry crane. The biggest benefit of using a gantry crane is that it doesn't need a runway or track built into the support structure of a building.  
Hoist, trolley, hook, beam, bumpers, controls, runway track, and end trucks are some of the components of an overhead crane system. The capacity of an overhead crane might vary from one crane to another. You need to keep in mind certain factors, such as weight of the material, type of the material, size of the premises, location of the work area, the required capacity of the crane, and more. 
Final Words 
Overhead cranes should be operated safely to avoid risking the lives of people present in the work area. Therefore, if you are using or have decided to use overhead cranes within your commercial or industrial premises, you should hire operators who have acquired the relevant skills and experience. You should also prepare and follow a proper maintenance plan for keeping your overhead cranes in top condition.