Written by

Malcolm Turnbull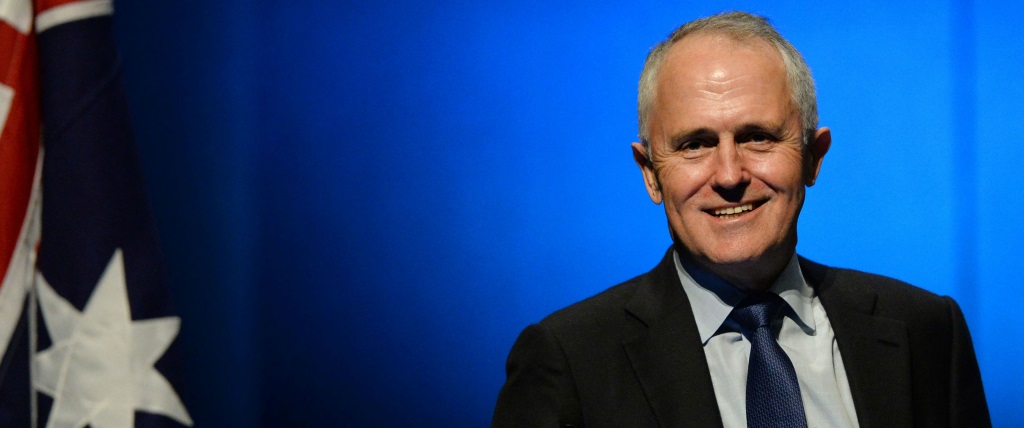 It's great to be here and I am here on the lands of the Larrakia people and I respect their elders past and present.
I want to acknowledge my Cabinet colleague and friend Nigel Scullion, Senator Scullion, Minister for Indigenous Affairs, Leader of the Nationals in the Senate, and County Liberal Senator from the Northern Territory. He is a great advocate in Canberra for the Territory.
Senator James McGrath, Assistant Minister to my good self, and Assistant Minister for Regulatory Reform and Senator for Queensland.
Shane Stone, a very dear friend, President of the CLP, former Chief Minister and a passionate Territorian.
Gary Higgins, the CLP Leader who is showing great leadership rallying the party and despite being part of a team of two nonetheless I see an enormous recovery in the polls. So there you go.
And Nick Greiner, Federal President of the Liberal Party of Australia, former Premier of New South Wales and one of the great political reformers in New South Wales, so Nick it is great of you to be here too.
It's wonderful to be here, and to see so much passion, so much passionate advocacy for the Territory.
This is an important time for the CLP. Last year was tough, but one of the great hallmarks of our party is its ability to respond to adversity.
Under the leadership of Gary, and Lia Finocchiaro, and as the Territory's only truly grassroots political movement, I'm very confident the CLP will be back, bigger and better than ever, in three years' time.
Lia's first-term election to the seat of Spillett was an outstanding achievement, bucking the strong swings we saw elsewhere across the Territory.
So you'll come through stronger and better by working together. You have a great team and with our hardworking and committed CLP members, I know you'll take the fight up to Labor.
And it's important that you do, by winning back the Territory we'll be stronger federally and we can stop Bill Shorten and the Labor Party winning government federally. I'll come to them in a minute. But the risk - I will - the risk to our nation from the most left-wing leader the Labor Party has had in generations is massive. Believe me, he has got an agenda that will crush business, crush enterprise, stop investment, put thousands of Australians out of work. But again, I'll come to that in a moment.
Now, what Australians want us to be focused on - and my government is focused on - are jobs, the price of power, schools, health. And we have great story to tell.
Everything we are doing - from our export trade deals, from which the Territory is such a big beneficiary - from our small business tax cuts - I was just talking to some of your fellow Territorians this morning about the way in which, already, businesses with turnovers of up to $25 million a year, and from next financial year up to $50 million turnover, are getting tax cuts. We want to extend that to all businesses. So far, we've got up to $50 million through the Senate. But those businesses - mostly Australian, family-owned businesses - they are getting a tax cut. Why are we doing it? Because if you improve the return on investment, you get more investment. If you get more investment, you get more jobs.
So this is all about ensuring that there are more jobs, more opportunities, more jobs and better jobs. That's the big difference between our side of politics and Labor's.
When you boil it right down to the fundamentals, we believe that government's job is to enable you to do your best.
The Labor Party believe that the government's job is to tell you what is best. They believe they know what is best for Australians, for Australian businesses - they believe that a party full of people - barely any of whom have ever been in business - you look at that whole rank of the Labor Party in the Federal Parliament - they haven't got the diversity that our party has - Nigel and I are two good examples of that, of people that have had a diverse range of business backgrounds - the Labor Party, they all come from that same trade-union background or working in political offices. No small business, no big business background. No business background at all. They do not understand the reality of the enterprise and the entrepreneurship that drives employment and opportunities in Australia.
Now you know, I mentioned the big trade deals. As you know, we have struck big export deals with China, Japan and Korea. Those countries are vital trading partners for you.
The Northern Territory, for example, exported $13 million worth of fresh, chilled and frozen beef to those three North Asian free trade agreement countries in 2016 - predominantly South Korea.
Under our trade agreement, they've already cut the 40 per cent tariff on Australian beef to just under 30 per cent. And it's going to come lower.
And that's great news for Northern Territory cattle farmers who will see further tariff reductions on their exports.
Let's not forget - talking about the cattle industry, and I don't have any interests in the cattle industry in this part of the world, but I remember very well as a cattle breeder in New South Wales the impact that Labor's extraordinary live exports ban had not just on devastating the industry here, but devastating the cattle industry right across the country.
It's that sort of recklessness and inability to understand the realities of business life is what characterises the Labor Party, and why they're so dangerous to have in government.
We're also seeing strong growth in tourism, particularly in the Territory - data released just this week showed the number of international visitors to the Territory increased by 8 per cent last financial year to 302,000. Those visitors spent $485 million in the Territory, making international tourism an even more important part of the local economy.
Add to this 2,000 international students in the Territory - that's up 47 per cent on just three years ago.
So you've got agriculture, you've got tourism, you've got live cattle exports and, of course, the huge resources exports that are driving opportunities here in the Territory.
The resources opportunities here are immense. That's why it simply doesn't make sense that the territory Labor government would consider squandering them.
In many ways, the eyes of the world are on Darwin. We know that overseas investors and joint venture partners are keen to team up with local companies to explore and develop the Top End's minerals and gas resources.
What economists call our "comparative advantage" puts this part of Australia in an enviable position. Businesses want to invest, but to do so, they need policies that enable exploration and development.
Favourable policies will deliver investment jobs and even more opportunities to the people of the north but, ultimately, this region - as in many other parts of Australia - needs greater gas exploration, not restrictive policies that effectively block investment from occurring.
None of this, of course, is new. We've already seen some of the benefits from the existing projects.
For example, the Darwin LNG project operated by ConocoPhilips for the past 10 years employed 125 people during construction, continues to support 250 local jobs, and $100 million a year in supply and service contracts. It's projected to deliver $4.4 billion in taxes across its life.
They're now looking at a second train.
And you have another major gas development - the INPEX Project, piping at 900km a year for processing and shipping to the word. As you know, more than 9,000 people are now working on the processing trains, the power stations, with 1100 Northern Territory businesses securing work. INPEX, the operator, calculates this will be a $118 billion contribution to the Northern Territory over 40 years, including $2.6 billion in taxation revenue for the Northern Territory Government alone.
There are still more offshore possibilities to emerge in the seas to your north. But there are also opportunities to your south.
The Beetaloo sub-basin is one of the most exciting prospects to emerge in Australia in many years. This project has the potential to make a significant contribution to domestic gas needs as well as exports.
But what is needed now more than ever is for the Northern Territory Government to remove its moratorium on development.
The views of affected communities and the protection of the environment are vital.
I understand that Labor is undertaking a review of extraction techniques but the answer is good engagement backed by science, not blanket bans.
So my message to Michael Gunner is - pull the trigger. Get on with it. Get on with it. The jobs, the investment, the opportunities that come with opening up 180 years of gas that you're sitting on is endless.
Now, let me say - we have an energy crisis in Australia. And it has been created by Labor left ideology and incompetence.
You have there, in Bill Shorten - or 'Blackout Bill' Shorten, with his faithful sidekick, 'No Coal Joel' Fitzgibbon, who represents an electorate full of coalminers - he doesn't just, 'No Coal Joel' doesn't just want them to have a day off, he wants them to have the rest of their lives off. He wants to put them all out of work.
The extraordinary ideological idiocy of the Labor Party on energy is to be seen right around the country.
Now, Mr Gunner's only recently been elected. Maybe he'll buck the trend. But I have my doubts.
You have, in the Labor Party, a party whose energy policies have taken us into an energy crisis where energy is too expensive and it's not reliable.
And if you want to see what the future looks like for the whole of the nation, look at South Australia.
That is where a left-wing government allowed the state to close one coal-fired power station after another - stations that were delivering dependable power on demand 24 hours a day, 7 days a week - and replaced it with windmills.
It apparently did not dawn on them that the wind doesn't blow all the time. This startling meteorological insight was denied them. It didn't occur to them.
And so, you have in South Australia the extraordinary situation of a state with this massive wind resource that can generate all of the state's electricity one hour, and none of it the next. And no backup.
So this is where the idiocy begins. Because if you wanted to have an entirely renewable energy system, you would be putting in the gas-fired power stations that can start up quickly and back up when the wind stops blowing or the sun stops shining, or you'd invest in storage, in pumped hydro - who's doing that? That's my government. That's my government.
The biggest investment in renewable energy since the first Snowy Mountains Scheme is under way now in the Snowy Mountains, Snowy Hydro 2.0. Of course, we're working with the Tasmanians on a similar thing, because we believe that our energy policy should be guided by economics and engineering, not by ideology and idiocy.
The comprehensive stupidity of the Labor Party is hard to fathom.
I mean, think about this - I said a moment ago that we are about to be the largest exporter of LNG in the world. Australia is a massive gas province, with huge offshore resources, many still to be developed, as you know, and of course, many onshore resources.
But we have Labor governments that will not develop them.
So you have, in Victoria, a state with a huge manufacturing base in need of gas, where tens of thousands of jobs have depended - and indeed, have been created - on the basis of affordable gas.
You have, in that state, a left-wing government - and this is the track that I fear Gunner is going to go down - you have there in Victoria, the Andrews Government, that will not allow any gas exploration or development in Victoria at all.
And yet, at the same time, they want to introduce a huge amount of renewables which, without the support of gas, will just create more of these problems where you'll have less and less base-load power, more intermittent power - what does that mean? More blackouts and higher prices.
'Blackout Bill' at work.
And you find the same challenge now further north in Queensland where the Labor government back in the Gillard days allowed gas to be exported from Queensland from the east coast, in other words, which had previously not had exports, and despite being warned in black and white, in official reports, that this was likely to result, or was going to result, in tighter supply and higher prices, did nothing to reserve gas for the domestic market.
I mean think about what a practical, heard-headed business-like approach would have done.
You would have said, "okay, exports are great. Terrific, we want more exports. We better look after the local market." Charity – not just charity but common sense begins at home too.
The incompetence of the Labor Party in energy over a long period of time is hard to believe.
I mean 'Blackout Bill', fair dinkum, as my old dad would have said, he is so hopeless he could not find his backside with both hands.
It is incompetence on such a great scale.
One mistake after another that they have made, failing to deliver the leadership, the business-like approach that we need.
So we're taking that different approach and that's what we need the government here to do and that's what we need everywhere in Australia. We need to ensure that we have the resources we need when we need them.
Let me take you to where - what we have done.
We've ensured that retailers are providing competitive prices to Australian households.
So more Australians are paying less for their electricity now than they were literally a week ago or a month ago, because we are ensuring that no one, people who are not on the right plan get onto the right plan.
We're ensuring that we have, gas is available. As you know, we are putting or foreshadowing restrictions on gas exports from the east coast to ensure that there is enough for the domestic market.
We are restricting the ability of the network owners to challenge the decisions of the regulator, to ensure that they can't keep on gaming the system, because obviously the cost of the polls and wires is a very big part of it.
And, of course, we are putting in place the long-term planning, Snowy Hydro 2.0, other projects, to ensure that we have the back-up.
Right across the board our approach is, you can see, common sense, business-like, thoughtful, based on engineering and economics.
So when we are told that we are going to have a big shortage in the national electricity market due to the closure of a coal-fired power station in 2022 one of the options we explore is keeping that power station going for longer.
That is clearly an obvious option to explore.
The Labor Party for ideological reasons immediately rejects it just like they rejected the warnings they had some years ago about allowing the consequence of gas exports.
It is this lack of business and business-like and pragmatic approach that has created the energy crisis we've got. Left-wing ideology coupled with incompetence. Whether it is in South Australia, Victoria, whether it was nationally under the Gillard government, all of these issues, your government, our Government, our Party is addressing. That is the key.
Now, if you think that that is bad enough, reflect on this - you know better than anyone here in the Territory, a Territory where hard work, business, enterprise, having a go, risk taking, this is a place that has been built, yes, with great natural resources, but the greatest natural resource is you. It is the people of the Territory. And you need to be incentivised. You need to have a government that encourages you.
What is Labor going to propose? We talk about them being the most left-wing leader. We talk about them being in charge of unions.
Do you know, until recently, we had in the Parliament, and we passed it now thanks to the great efforts of our senators and I acknowledge James and Nigel and our Employment Minister Michaelia Cash, we got through legislation which did this - it said it was unlawful for businesses to pay backhanders to unions.
In other words, the law says a business can't pay money to a union unless it is transparent and it is open and is for a legitimate purpose.
Labor opposed that. Can you believe that? Most people, you walk down to the pub today, most people would think it has always been a law. And of course it should've always been the law but it wasn't. We made that law to protect workers, to protect workers that are being demanded by union leaders like Shorten. But he opposed it.
What he wants to do is put up tax on business, on companies. Put taxes on trusts which is how most, many family businesses are organised. Put up personal income tax. He's going to put up taxes on properties and he's going to put up capital gains tax.
What effect do you think any of that is going to have on investment? It's going to discourage investment.
What's it going to do to employment? It is going to discourage employment?
You are going to see, if you have a Labor government, a decline in investment, a decline in employment. You are going to see the most negative impact on the economy you could imagine because all of his policies are anti-business.
Now Shane and Nick and I have been around politics for long enough to remember different Labor leaders.
This is not Bob Hawke and Paul Keating.
This is not a Labor Party that has an interest in economic reform.
Shorten is the most left wing leader they've had in generations.
In fact, his great in-house lawyer Mark Dreyfus went out to condemn me for saying that not so long ago and the journalist said: 'Mr Dreyfus, who has been a more left wing leader than Mr Shorten?" And the great QC couldn't think of one because frankly you would have to go back to the '60s or the '50s. It is a literally a blast from the past. He is trying to channel Jeremy Corbyn in Australia.
The threat from Labor has never been greater.
The opportunities for Australia have also never been greater but it requires leadership, economic leadership that supports investment, that supports employment, that supports enterprise.
And on important matters of energy, it requires competence in every field. There is no substitute for a hardheaded, clear-eyed, pragmatic approach to dealing with these problems and you can see that we are doing that.
Delivering real results right now in the immediate time, in the medium-term and in the longer-term.
We are not allowing, as Shorten was saying the other day, problems to be: 'Oh, we'll deal with that in a few years time. Forget about that. That is a long way down the track.'
That is why we go out to the energy market operator and we say: 'Okay, tell us, what is the gap in base load power going to be this summer, next summer and in five and 10 years' time.' We get that information and then we make decisions and plan for it.
So you can be assured that we are committed to you. We are committed to enterprise. We're committed to our Party's values, which are values of freedom. We are committed to ensuring that government does everything we can to enable you to do your best and above all, we are a party of business-like, pragmatic men and women who are determined to make the right decisions carefully, competently, not distracted by ideology, let alone all of the stupidity and complacency and neglect that has characterised the Labor Party.
The battle we are fighting, whether it is here in the Territory or nationally is more vital than ever.
The opportunities for Australians are greater than ever but the risk that the Labor Party poses to them are also the gravest we have seen in generations.
Thank you for your support. It is great to be here. I'm looking forward to a stronger and more successful CLP at the Territory level and the federal level in the future and I know with your passion and your support that's what we'll get.
Thank you very much.