Written by

Helen Dickinson, Associate Professor, Public Service Research Group, UNSW
The Commonwealth government has just announced a change in the way they fund hospitals, effectively withholding part payment where patients have avoidable complications. The initiative aims to improve the quality of hospital care and reduce overall costs, but without other measures, this probably won't do much to stop hospital-acquired complications from occurring.
The new plan for hospital funding
Public hospitals are funded by an activity-based system in which they receive money for the services they deliver. Diagnosis-related groups are used to classify hospital episodes of care into a number of codes, which are then reimbursed at amounts set by the Independent Hospital Pricing Authority.
Complications that occur during hospital care, and where there is good evidence these could have been reduced through clinical risk mitigation strategies, are known as hospital-acquired complications. These include things like surgical complications, pressure injuries, falls and health care associated infections.
If you experience a hospital acquired complication then the complexity of your care is likely to increase and you may stay in hospital for longer. This means the cost of care for this treatment goes up. Estimates suggest where you have a health care associated infection the cost of your care increases by 9%, renal (kidney) failure by 21% and malnutrition by 7%.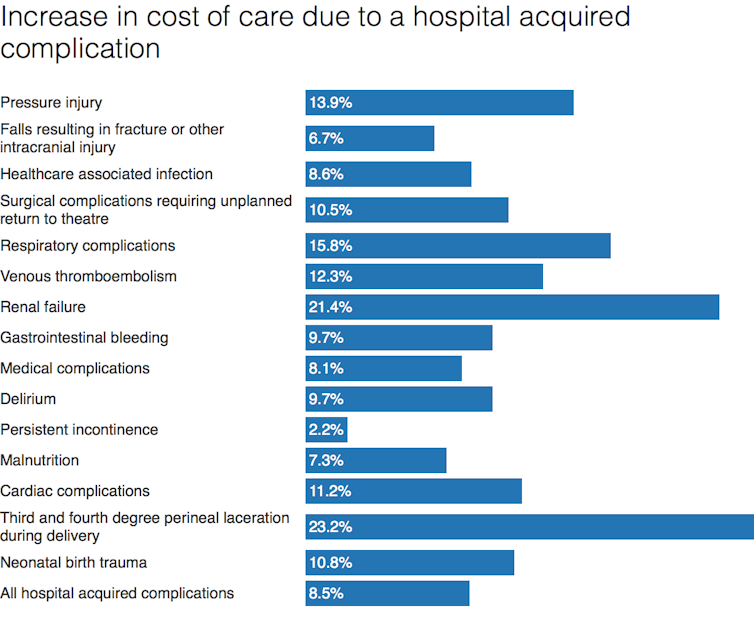 Authors: Helen Dickinson, Associate Professor, Public Service Research Group, UNSW
Read more http://theconversation.com/withdrawing-funding-for-hospitals-mistakes-probably-wont-lead-to-better-patient-care-88241