Written by

Gregory Moore, Doctor of Botany, University of Melbourne
Sign up to the Beating Around the Bush newsletter here, and suggest a plant we should cover at batb@theconversation.edu.au.
The genus Acacia is Australia's largest, containing nearly 1,000 different species. It includes our national floral emblem, the golden wattle, and is the source of the green and gold colours of many of our sporting teams. The variety of acacias is mind-boggling.
There are many well-known small, short-lived species that thrive both in their natural habitats and in suburban gardens, where they are known for attracting insects and birds. There are species that survive in the arid inland as inconspicuous, stunted shrubs that are more than 200 years old, and there are also tall forest trees such as the blackwood, Acacia melanoxylon that can live for centuries.
Read more: The art of healing: five medicinal plants used by Aboriginal Australians
The black wattle, Acacia mearnsii, falls somewhere between these extremes. It ranges from 6 metres up to (occasionally) 15 metres in height. It is generally called "short-lived", but often makes it past 20 years old, and may persist for 30 years or more under the right conditions.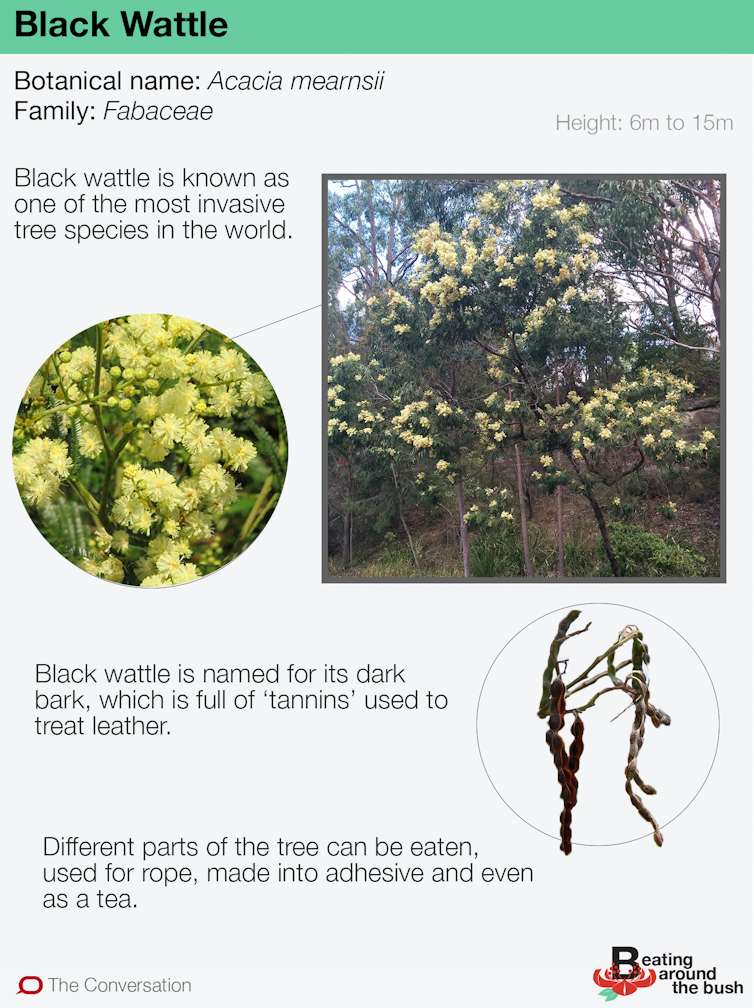 Authors: Gregory Moore, Doctor of Botany, University of Melbourne
Read more http://theconversation.com/the-black-wattle-is-a-boon-for-australians-and-a-pest-everywhere-else-100529