Written by

Stuart Worboys, Laboratory and Technical Support Officer, Australian Tropical Herbarium, James Cook University
Sign up to the Beating Around the Bush newsletter here, and suggest a plant we should cover at batb@theconversation.edu.au.
The 1800s was a time of colonial expansion across the globe. During this time the great and the good of Britain filled their grand gardens with exotic novelties from all corners of the world.
Amongst these were many species of Asian rhododendron, a diverse and colourful genus of shrubs and small trees, whose high altitude origins made them well suited to the cool temperate climate of England and Scotland.
Read more: The road to here: rivers were the highways of Australia's colonial history
Throughout the 19th century, commercial collectors and field naturalists discovered rhododendron species in southern China, the Himalayas, on the high peaks of Borneo, Java and especially New Guinea.
These finds lead Victoria's government botanist of the time, Ferdinand von Mueller, to speculate about finding rhododendrons on the high tropical mountains on the northeast coast of Queensland. He wrote:
When in 1855 [I] saw… the bold outlines of Mount Bellenden-Ker, the highest mount of tropical Australia, towering to 5,000 feet, [I] was led to think, that the upper region might prove to be the home of species of Rhododendron… forms of plants characteristic of cool Malayan sylvan regions.
But the lofty heights of Mt Bellenden Ker were unknown to European Australians. It would be another 32 years before an expedition led by naturalist W.A. Sayer reached its central peak.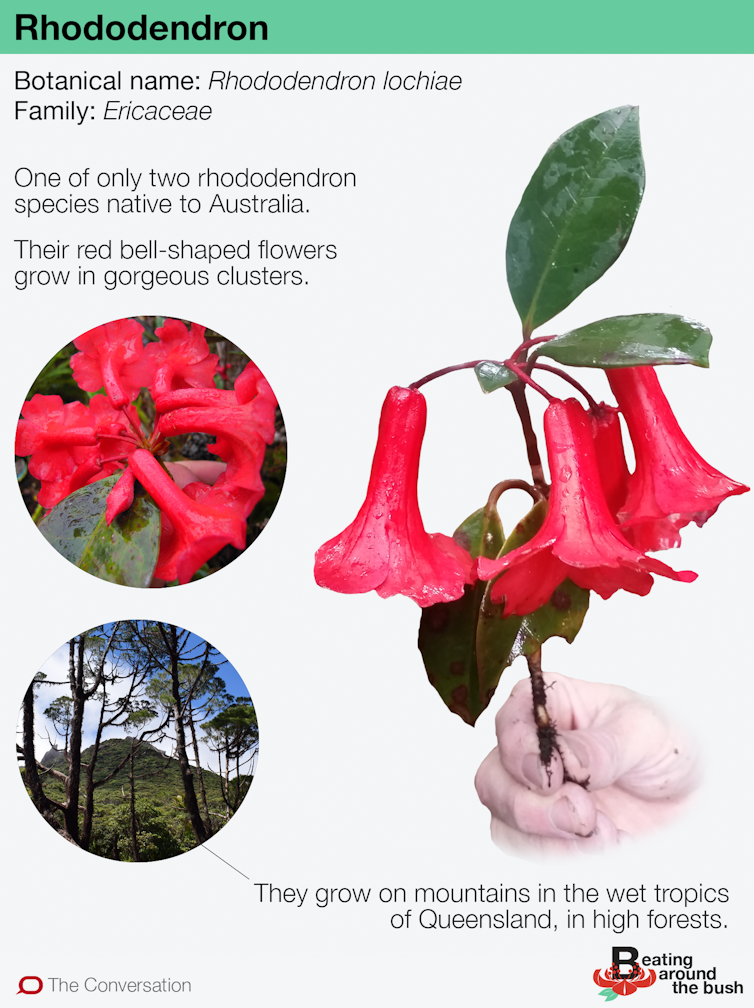 Authors: Stuart Worboys, Laboratory and Technical Support Officer, Australian Tropical Herbarium, James Cook University
Read more http://theconversation.com/australias-native-rhododendrons-hide-in-the-high-mountain-forests-105218