Written by

Zahra Nasreen, PhD Scholar in Planning and Geography, Macquarie University
The proportion of households experiencing rental stress is on the rise across Australia's major cities. High rental prices have been driving an increase in shared housing. The most extreme form of this is "shared room" housing – where residents share a bedroom or partitioned living space (such as lounge room or garage) with a number of unrelated adults.
Official statistics, such as those collected by the Australian Bureau of Statistics, fail to accurately record room sharing. Public knowledge is limited to anecdotal stories or periodic media coverage of tragic outcomes of living in shared room housing – such as a 2012 apartment fire that led to the death of an international student in Bankstown, Sydney.
Read more: Room sharing is the new flat sharing
However, the growth of online advertising platforms can provide new insights into shared housing across our cities. For our recently published research, we analysed 1,018 room-sharing listings for Sydney on gumtree.com.au between February and April 2017. While focusing on Sydney, the insights we present here are relevant to all Australian cities.
Who lives in shared rooms and where?
Sharing a room is typically short-term accommodation which allows residents to secure low-cost housing in well-located parts of the city, close to services and employment or education (typically universities). It's an option most likely to appeal to young and mobile populations. Evidence suggests that international students, holidaymakers (those staying longer than typically housed via services such as Airbnb) and young professionals are most likely to live in shared rooms.
Thus, it's no surprise that suburbs surrounding the Sydney CBD had the most shared room accommodation. The suburbs of Sydney, Pyrmont, Ultimo, Haymarket and Chippendale (Sydney City local government area – 409 rooms advertised), Bondi Beach and Bondi Junction (Waverley LGA – 80 rooms advertised) recorded the highest numbers. Beyond the CBD, Parramatta, Auburn, Strathfield, Chatswood, Lakemba and Rockdale had relatively high numbers of listings. Parramatta LGA recorded the third-highest number (76).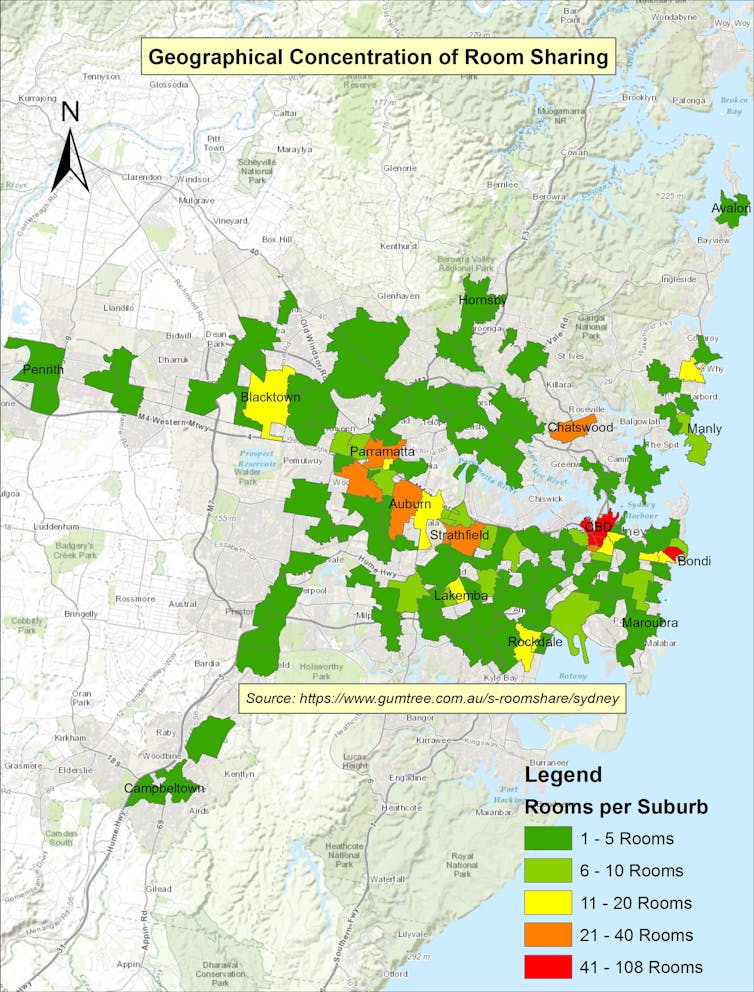 Authors: Zahra Nasreen, PhD Scholar in Planning and Geography, Macquarie University
Read more http://theconversation.com/tracking-the-rise-of-room-sharing-and-overcrowding-and-what-it-means-for-housing-in-australia-107265