Written by

Elizabeth Joyce, PhD candidate, James Cook University
Sign up to Beating Around the Bush, a series that profiles native plants: part gardening column, part dispatches from country, entirely Australian.
It's a pale rebel with a mysterious past, who doesn't play by the family rules. You might not guess from looking at it, but Geosiris australiensis is my pick for the Sexiest Plant of 2019.
I might be biased though: my colleagues and I have just uncovered the amazing life, and evolutionary history of this mysterious herb. It was only found in Australia in 2017, so there's plenty left to discover.
But here are five things we do know about this strange, alluring guy.
Read more: Native cherries are a bit mysterious, and possibly inside-out
You're no sun of mine!
Geosiris (literally, "earth iris") grow as small (5-12 cm high), pale, perennial herbs on the floor of the tropical rainforest. A single stem arises from an underground rhizome which produces a white or pale purple flower after every wet season.
Geosiris doesn't photosynthesise. Most plants are autotrophic (auto = self, trophic = feeding) – that is, they make their own food using energy from the sun through photosynthesis. Plants photosynthesise by using green chlorophyll, stored in part of the cell known as a chloroplast.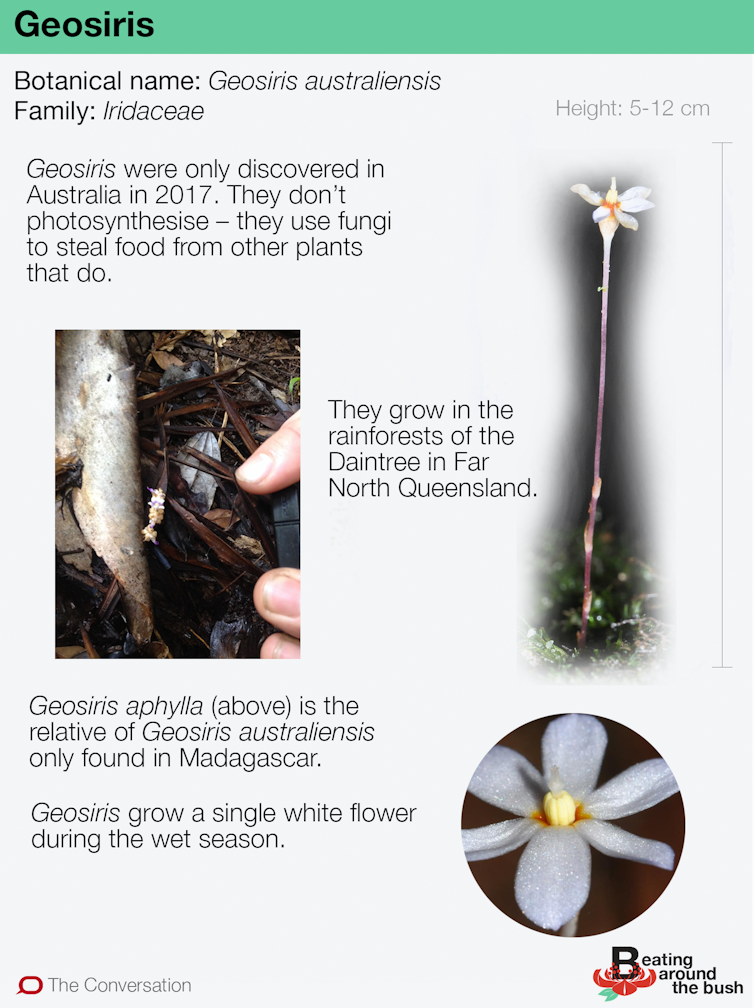 Authors: Elizabeth Joyce, PhD candidate, James Cook University
Read more http://theconversation.com/geosiris-is-an-early-contender-for-sexiest-plant-of-2019-109889