Written by

News Feature Team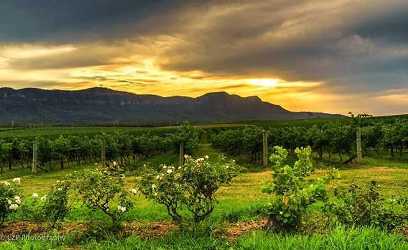 No trip to Australia is complete without a trip to the picturesque Hunter Valley, a mere six hours by car from the hustle and bustle of Sydney which when road tripping with friends, is an adventure in itself. Home to the small towns of Newcastle, Rothbury and Lovedale, this region is best known for its acres of wineries, producing Semillion and other blends for the local and export markets. Even if you aren't a big wine lover, or are travelling with small children, this region makes a great escape, ideal for chilling out and getting back to nature. From mountain biking to enjoying some of the delicious local cuisine, the Hunter Valley caters for all ages and interests. So even if you only have a few days to spare during your trip to Oz, make sure you put it on your list.
A bevvy or two
No trip to the Hunter Valley is complete without popping into a few local wineries. Enjoy slurping and spitting through locally produced Semillion, Shiraz and Chardonnay to your heart's content, all while drinking in the stunning scenery that this hidden gem is famed for. Beer drinkers aren't forgotten either, thanks to the increase in craft breweries popping up across the valley – Matilda Bay Brewer and Potter's Brewhouse are a good place to start if you want to sample a few local brews.
Party the night away in Newcastle
If you are looking for a girls weekend away or perhaps you are planning a stag or hen do on the cheap, then Merewether Beach in Newcastle should be top of your list. Home to a plethora of stunning eateries, offering fresh local produce, alongside a range of bars and clubs to suit all music tastes, Newcastle is an ideal party destination. If you are looking to get your night off with a bang, check out Newcastle Strippers to really get the party started. Don't miss taking the famous Newcastle tram the morning after, providing a city tour of famous local spots and beaches – ideal to sort out those hangovers.
Take a trip to Lake Macquarie
No trip to the Hunter Valley is complete without stopping off in Newcastle, one of Australia's major cities that is located by the sea and also on the banks of the River Hunter. Lake Macquarie is a coastal lagoon, offering endless opportunities for water sports enthusiasts – such as paddle boarding and kayaking. Why not pack a picnic and make a day of it? You are bound to come across some of the unusual flora and fauna that Australia is famous for too.
Get Cultural
Once you've enjoyed the best of Newcastle's buzzing nightlife, why not take a trip down memory lane and explore some of the history behind this culturally rich city? In spite of the gentrification that's evident across the inner city areas, there are still signs all across Newcastle that it was once an important coal and steel port. The fantastic Newcastle museum lies behind the harbour, offering a detailed and interactive insight into this city's industrial past. With exhibitions to suit all the family, this is not one to be missed.