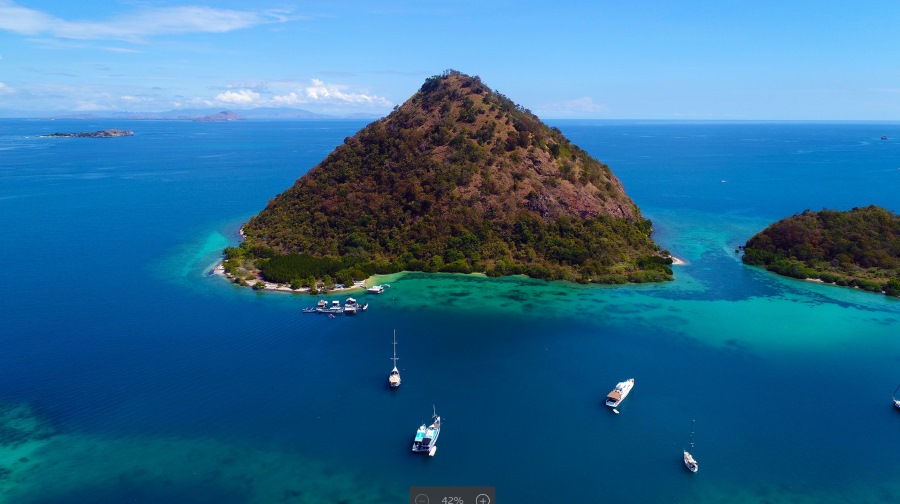 20 August Sydney, Australia – 15 September 2018 marks the launch of the first and only 5-star resort on the island of Flores, AYANA Komodo Resort, Waecicu Beach by AYANA Hotels. Alongside the spectacular 205-bedroom resort, AYANA will also launch the world's largest specially built phinisi ship, AYANA Lako di'a.  
Hailing a new standard in luxury travel, the impressive 54-meter AYANA Lako di'a features nine luxurious bedrooms, including a master suite with a private deck, and exquisite lounging and dining areas. In addition, AYANA will launch a fleet of water vessels, including Lako Taka, a glass bottom boat; Lako Cama, a speedboat and Lako Sa'e a second, specially built phinisi, and a bespoke catamaran.
Komodo is a labyrinth of on and off-land adventures, with AYANA offering an exciting program of stay and sail opportunities, available for guests to book and discover. AYANA's aqua fleet offers access to some of the world's finest dive spots, the surreal landscapes of Padar Island and Cunca Rami waterfall, and unique seascape experiences.
At the helm of AYANA Lako di'a, you will find cruise director, Thomas Demesmaker. Thomas' expertise includes thirteen years in the Maldives specialising in operational and cruise director roles for liveaboard vessels. Passionate about creating a unique 5-star sailing experience like no other, Thomas' role will include delivering a fully personalised service that extends from all onboard operations to managing and curating once-in-a-lifetime guest experiences. With the support of the crew and onboard chef, guests will have an expert team on hand to indulge in delectable dining options alongside on-land and aqua activities, and underwater excursions to the world's best dive spots.
Behind the sails is operations manager, Ricardo Ferreira who hails from Portugal. Ricardo was born close to the ocean and remains zealous about diving and marine life. His vast operational experiences include working in St. Maarten and Mozambique, leading a dive center and marine biology center, and managing extensive aqua activities on a private island in the Maldives. Ricardo will manage daily excursions and water activities including kayaking, stand up paddle boarding (SUP), fishing, diving, snorkeling, and the fleet of leisure boats.
To ensure availability of on-land and aqua activities, guests are invited to pre-book their reservation and can choose from day-trip adventures as well as one, two and three-night voyages to explore remarkable landmarks such as the UNESCO World Heritage site, Komodo National Park. The Park comprises of Komodo Island, Rinca, and Padar, plus 26 smaller islands. This global conservation priority area protects unparalleled terrestrial and marine ecosystems including the famous Komodo Dragon – the world's largest species of lizard, which cannot be found anywhere else on earth.
Opening Specials 
To celebrate the grand opening of AYANA Komodo Resort, Waecicu Beach guests can enjoy these special rates to ensure there is plenty of time to take in all the islands have to offer. Book two nights and get one extra night free or book four nights and receive two nights free. With a choice of bonus night offer or 20% pre-opening discount with complimentary two-way airport transfer, there are plenty of perks to booking your dream holiday in advance. Families can also enjoy all the resort has to offer with connecting rooms at 50% off, children's pool, kid's club, and plenty of child-friendly activities.
To book or to find out more about AYANA Komodo Resort, Waecicu Beach and AYANA Lako di'a follow @ayanakomodo or visit ayanakomodo.com
Note: cruising is subject to weather conditions