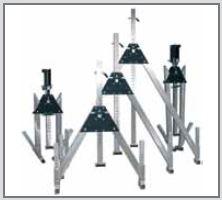 Gantry cranes are an important part of running an industrial type of business. They're effortlessly used to lift and move machinery, HVAC systems and other large,heavy items. A gantry crane is durable and can last for many years, making your work so much easier than ever before. However, it's important to take a look at the different types of cranes that are available so that you can be sure you're choosing an option that's right for you. Read on to learn more about gantry cranes and find out how they can benefit your business.
What is a Gantry Crane?
Gantry cranes are often made out of steel and feature a crane that's built on top of a gantry. This enables you to have a workplace for your employees where they can get to higher areas as well as lift heavy machinery, vehicles, boats and other items. Gantry cranes are easy to operate and use regularly, making them a fantastic option for any industrial workplace. For this reason, it's a good idea to look into using these cranes and see why a lot of companies and industries currently use them.
How Can They Be Used for Your Business?
If you run an industrial business or a factory warehouse, gantry cranes can come in handy and be used for everyday applications. Some of the ways that these cranes can be used include:
*  Lifting heavy machinery and equipment

*  Lifting HVAC equipment 

*  Lifting vehicles and boats
If you're going to be buying one of these cranes, it's important that you take a look at the different ones available to you. Some are more portable in nature, while others are more suitable for everyday use. This is why it's important to look at which options are right for you and which particular crane would best suit your company.
How to Buy and Use Them
There are many online and local shops that sell gantry cranes. If you're interested in a gantry crane, it's important to look around and determine which one will meet your needs best. This means carefully looking at the different options available to you and seeing which one is ideal for your everyday needs. For example, you might need a crane that's more affordable and portable, so it would be wise to look at portable models.
There are a lot of people right now who are making good use of gantry cranes for their businesses. You'll find that the vast majority of cranes out there are easy to use and can be customised to your own needs. Once you have a gantry crane, you can enjoy having the crane to use whenever you need to lift a heavy load.
Be sure to consider gantry cranes as a viable option, as they can help your industrial workplace in ways that you can only imagine. These cranes can even be less expensive than you might think, making them a great addition to your place of work. Your business as well as your workers will find these cranes to be quite helpful with everyday work.