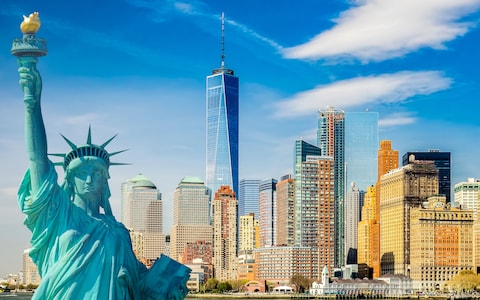 Australia and the United States enjoy a close relationship which offers great potential for businesses looking to expand internationally.
However, there is a distinct difference when comparing both countries. The US has 13 times the population of Australia with a much larger economy.
In term of this economy, the US is the largest destination for many Australian investments over the past decade, with current two-way investment totalling $1.45 trillion. This figures dwarfs other economic partnerships.
As Australia and the United States are investment partners, a large number of Australian companies are currently making money in the United States and providing the opportunity for local people to earn a living.
Still, Australian businesses must be innovative and skilled to see a return on investment when looking to invest in the American market.
If you're looking for inspiration to expand your own business into a larger international market, consider the following companies which are successfully working and contributing to the American market.
Creator Global
Creator Global is a successful Australian company operating in the United States. Its projects and growth are based on internet-related items, with their experience in designing are contributor to their popularity. In North America, they work with brands like Anheuser-Busch, InBev and Coca-Cola.
99designs
99designs is an Australian based company working in America. Providing a freelancer platform to clients and designers, they have grown substantially since their inception in 2008. With their headquartered in Oakland, California, this company connects more than 2 million designers with brands in 192 countries and shows the benefits of outsourcing.
How can I expand my own business into the US market?
If you're thinking about running a new business in America, then there will be a range of opportunities as well as risk for you to consider. When starting a business, it is important to know what steps to take to give yourself the greatest chance of success.
The following 4 steps will help you expand into the US market and provide you with the platform you need to be successful.

Step One - Evaluate Yourself
When you plan for a new business, ask yourself why you want to start a business? This will ensure your focus stays narrow enough to avoid distraction and direct your resources where they need to go.
Also, determine what kind of business you want to start. When you figure out these questions, you will be able to move forward and begin to evaluate secondary questions, like:
What skill set do you have?

Where do your passions lie?

What weaknesses do you have?

What are your revenue and growth goals?
Business evaluation is simple according to the business team at Modern Day Concepts who say that "your goal should be to define what success is to you. Is it a title? Or a salary? Or a revenue target? Too many businesses fail to identify their end goal, and so it's impossible to reach. Be super clear with what success looks like before you start planning how to get there. That's the secret of successful entrepreneurs."
Failing to plan is planning to fail. So before you take tangible steps towards US expansion, be certain of your strengths and weaknesses as a business.

Step Two - Determine Your Budget
Your budget will go a long way to determining your success.
But each business requires a considerable investment, especially in a foreign market.
Often times, businesses have failed because they don't have the necessary budget. Rather than defer your dreams, you can take advantage of fast money lenders to provide the fast injection of capital, which you can pay off as you grow. In this way you minimise your risk and only grow within your means.
According to the financial experts at Maxiron Capital, "lenders will require your financial details to secure a small business loan. Don't panic if you're in the early stages of planning and don't have the figures you want. Provide an accurate summary of your business goals in the form of a business plan to help achieve your lending goals."

Step Three - Conduct Market Research
Researching your market is an excellent way to protect your investment. This should include research about your expected partners or rivals in the market. You can meet them in person, or conduct online surveys to provide you with a lot of information which will prove helpful in your expansion goals.
With an exclusive tip to help your market research goals, PNG Solutions reveal "don't limit yourself to one type of data collection strategy. Just using customer survey forms for your clients might not provide the full picture. Try reading reviews of your rivals, ask around in industry forums, or even allow for anonymous reviews to collect the full picture."

Step Four - Select a State for Company Registration
The location of your business will have an impact on your ability to expand overseas. It is best practice to register your company where the conditions suit you. This may include a lower tax rate or a surplus of skills and talent.
You should research about the states you want to operate in before getting started. For example, California is known for its business market. On the other hand, Delaware offers cooperative, flexible laws and friendly rules to businesspeople.
You should be active in your research before registering your business to ensure you work with the conditions of your market and not against them.
Final Thoughts
Are you ready to launch your business in America?
While this location offers a larger market for you to establish yourself, this also means more competition and potentially higher costs.
However, by planning your goals strategically, finding the necessary resources to scale up, conducting market research and choosing a location that is favourable to your goals, you'll be taking the necessary steps to move forward and grow.
The only question left is, what are you going to do today to help you reach your expansion goals tomorrow?
Let us know in the comments!