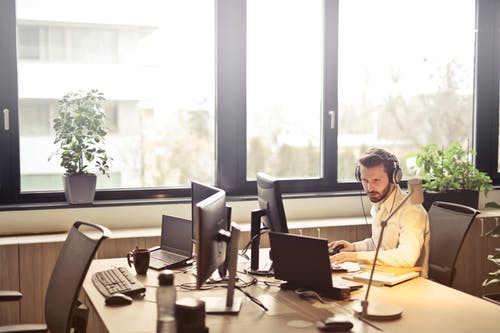 An office needs to function at all times. Day in, day out, your office is the centre of all you do, where your employees come to do their job as best they can. It makes sense, then, to create a productive office space an environment where your employees look forward to coming to work. You need to consider comfort, productivity and character, as together these characteristics will make a productive space to be proud of.
Read on for some ideas as to how to make your office the most productive workspace possible.
Improve air quality
This might not seem like an obvious one to consider, but improving the air quality of your office can have a direct impact on your employees. By insulating your building, you can help to lower your energy bills and will also make your employees more comfortable due to reduced sound. Humidifiers will also assist in improving the air quality of your office. Poor air quality can lead to health conditions developing amongst your workers. You can avoid this through the installation of humidifiers as well as professional evaporative air conditioning that can ensure your workers stay cool in the summer without the need to open windows and let noise pollution and distractions interrupt their airflow.
Don't forget plant life
Plantlife has long become the norm for most offices now due to the benefits it brings, by both oxygenating the air and making for a calming environment. Green has long been referred to as the most calming colour. Still not convinced? A study has actually found that plants make an office more productive, with green offices increasing engagement and involvement in work.
Don't clutter the floor space
It can be tempting to fill every possible space in the office with bits and pieces. However, too much clutter can actually have a detrimental effect on workflow. Regular clean-ups and a tidy space can help to keep employees focused on their task without being distracted by their surroundings. Clearer spaces are naturally more calming, and it goes without saying, the calmer the space, the more productive the workflow.

You may also choose to create partitions using glass to make your office look more professional, and improve employee productivity, suggests Innovative Office Partitions.
Invest in the latest technology
Some say a man is only as good as his tools. Some may disagree, but when it comes to productivity in the workplace, investing in appropriate equipment to do the job properly is vital. Tired hardware and dated software could potentially very much hinder a company's output, notably if basic everyday tasks are slowed down due to fixable matters such as a slow operating system. Such instances will also only add to employee frustration, that can, in turn, have an effect on morale. Therefore, it is worth taking the time to invest in technology that can help your employees complete their job in good time, at the quality required.
An office space can be a thriving hub of productivity if you allow it to be. Through efficient air quality and room temperature, regular clean-ups, incorporation of nature and the latest equipment, you can create an office space anybody would be proud and happy to work in.