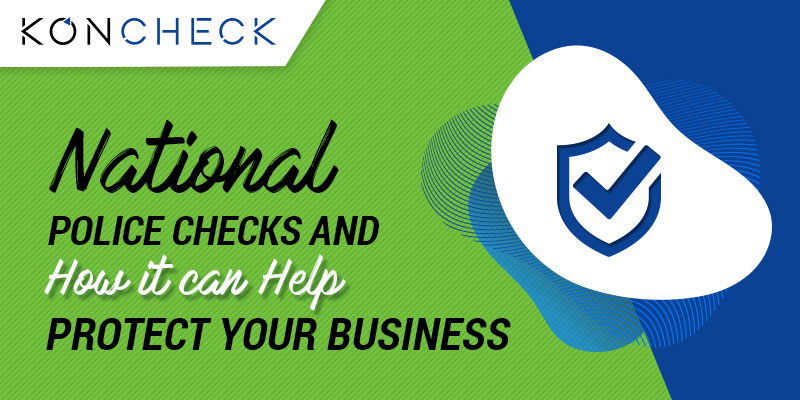 Hiring for organizations is not an easy task. Every recruiter wants to employ reliable, honest, skilled people who are a good fit for their office culture. In short, hiring someone who will help the organization to grow. But is it ever a cakewalk to find someone that efficient? The answer will be no! An applicant's criminal background might hinder their employability. But there are ways to safeguard it. A Criminal Background check of prospective hires can help you choose the desired candidate for your organization.
Due diligence is the secret to hiring the right candidate, which involves conducting a police check through an accredited body like KONCHECK.


What is Police check?
The vision of the Australian Criminal Intelligence Commission (ACIC) is to make the country a safer place which can react to crime quickly. This can help by performing a Nationally Coordinated Criminal History Check (NCCHC). This check runs through the national database to check if an applicant has any criminal record. A Police check result may show Disclosable Court Outcomes (DCO) or Non-disclosable Court Outcomes (NDCO). The certificate is valid Australia-wide. ACIC with the help of Australian Police allows an applicant to obtain a national police check.
The ACIC accredits private organizations to lodge Police check applications in the National Database. After receiving the results, the organisation informs the applicant.


Why Police check?
Companies who are hiring often include a police check as a requirement for applicants. Because, workplaces are currently exposed to organized criminals such as financial fraud, money laundering, illegal weapons and narcotics, cybercrime, identity theft, manipulation of business structures, bribery in the public sector, terrorism, etc. It becomes imperative to be conscious of the history of an applicant at the time of hiring.


How does it work?
One can apply for a Criminal History check in a quick and easy way. In a manual process, an applicant has to come down to the police station or any participating post office with a filled-out application form and ID. The form can be downloaded or available at police stations or post offices. After paying the corresponding fees, the process will get started. Except for Queensland, this process applies to all Australian states.
The manual process is quite lengthy and time consuming. It takes quite a few days to deliver the NCCHC certificate.
To avoid the snail-mails and paper forms, one can obtain a National Police check online. There are quite a few organisations offering this service through an online portal. They will be required to upload Identity documents and also mention the check type and purpose of the check. After making the payment, an applicant should provide consent by electronically signing for the same. When the certificate is ready, the organisation will inform the applicant.
The police check request can be flagged for manual screening sometimes. It means that further investigation is needed because someone with a criminal history has the same name and birth date as you.




Importance of a Police check
Usually, a clear police record is an excellent gage of the actions and attitudes of an applicant. This is especially important in businesses that involve work with children and elderly groups, as they need the most competent and level-headed staff to take care of them. This also extends to law enforcement, education, and health care divisions.
The organizations which conduct Police checks must keep it in mind that, an applicant with a criminal record is not always distrustful. On the other hand, employees should not get paranoid in the name of a police check. They must act professional because it only ensures their safety from possible threats within the organization. Their cooperation can help the organization grow further and achieve higher goals.