Written by

Tahli Brittain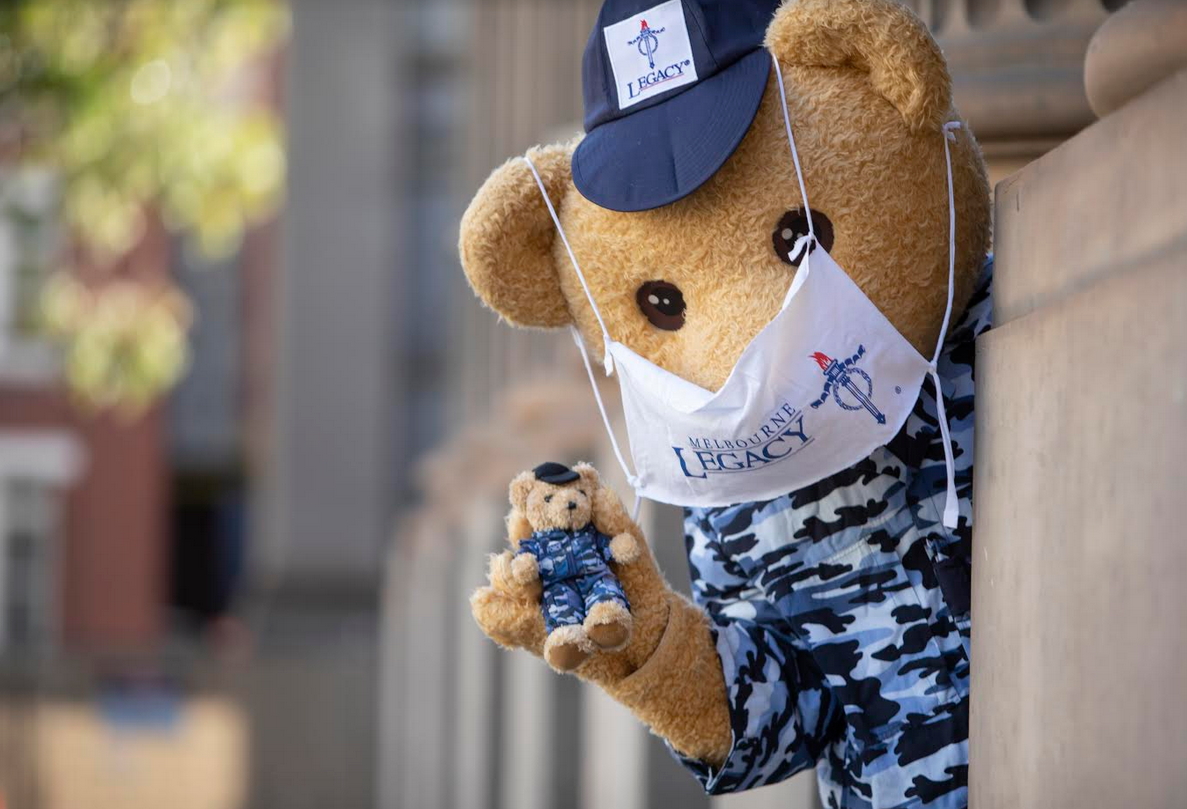 In light of Melbourne's stage 4 restrictions, this year's annual Legacy Week fundraiser is migrating online – harnessing new activities that are focused on family & community, and designed to keep up social connections while supporting veterans' families impacted by the service of their loved ones.
The new #LegacyBearHunt fundraising campaign encourages the public to get creative by sharing a photo of their Legacy Bear hidden in a fun place for the local community to spot on their daily walk – they could be up a tree, sitting in a window or somewhere even more surprising! Parents can encourage their children to keep an eye out for bears when adventuring outside, helping to diffuse much of the tension and monotony many children may be experiencing during this uncertain time.
This new campaign marks a break in 70 years of Melbourne's Legacy tradition. Under normal conditions, Badge Day volunteers and Australian Defence Force personnel can usually be seen on the streets of Melbourne at the height of Legacy Week; rattling tins and selling Legacy badges and merchandise.
However, this year, those much needed donations will not be available to help Legacy continue its work supporting veterans' families, as they have done for 97 years.
Instead, Legacy Bears are available to purchase from the Melbourne Legacy online shop, as well as a free downloadable activity pack including colouring sheets and a Legacy Bear hunt map, which will keep kids entertained in lockdown while supporting veterans' families and raising awareness about the important work of Legacy.
As part of this year's campaign, Melbourne Legacy will also be sharing a range of at-home activities for people of all ages through a video series to be posted on social media and on their site.
"Appeal funds are more important than ever this year to help us continue our work, supporting veterans' families in many ways, but particularly those issues that are heightened through isolation such as PTSD and domestic violence." Says Melbourne Legacy CEO Jo Moloney.
"We are hoping to provide a little bit of respite and community spirit to families, while also ensuring people are aware of our hard work and the importance of supporting service families."
As face-to-face Legacy badge selling cannot happen this year due to the lockdown, families and supporters of Legacy's mission are strongly encouraged to act generously online through donations or purchase of merchandise at www.melbournelegacy.com.au.
About Melbourne Legacy
Since 1923, Melbourne Legacy has provided consistent and comprehensive care for the families of veterans. Legacy Week has been an iconic fundraising campaign since its inception in 1942. Melbourne Legacy currently supports over 4700 people, all of whom are part of a family that has been touched by a loved one's service to our country.
In support of families, Melbourne Legacy offers a range of individualised services including financial assistance, referrals for counselling, camps and programs, support for children's education and advocacy for entitlements and services.