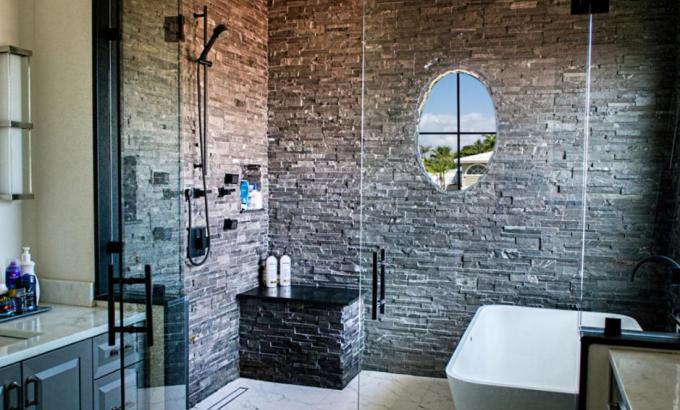 A nice shower is one of the best investments that you can make in your property. Not only will a shower add good value to your home it is also a treat on a personal level. There is something quite special about being pampered in a well finished shower. We are obviously not talking about a dodgy mildewed curtain pulled over the bath which you are standing in. Showers have come a long way since then and rightly so. The old-school stand-in-the-bath shower was always more functional than it was enjoyable. We are here to talk about the next level experience and how to hit your shower out in such a way that you make yours the envy of all your friends.
The tiles
This is always going to be a matter of preference so do your research. Remember that we are not living in the 1970s anymore so gaudy glazed tiles don't have to be the default. Pinterest is a good place to start in looking for latest trends and looks in bathroom design. But think things like sandstone cladding or bamboo. Natural finishes that will wear well and which will add an element of chic and taste to the overall experience.
The shower-head
Forget everything else and install a shower-head that is broad and powerful, and you have already done the most important part of the job. Ideally look for a head that has a range of different settings and options. The key here is to recognise that the way that the water comes out of the shower-head is what makes the shower. You can get everything else right but the water from the shower-head is a drizzle or too hard and you might as well not have tried. Be aware that a great shower-head can be expensive but know that it is worth every cent. If you are going to cut costs do it elsewhere, the shower-head is where you need to spend your budget.
Say no to curtains
We alluded to it already a little earlier, but curtains are not the answer. If you need to screen yourself off from the rest of the bathroom then glass is the winner. Brick walls covered appropriate will be inevitable but stay away from the old canvas or nylon curtain. No matter how cool or funky the design they are not worth it. One of the best solutions is the wet room shower. No need for curtains or sides at all. Liberating and relaxing and wonderful if there is a view from your bathroom window.
Heated bits
Heated floors in property and towel rails are always a win. Granted, they might not be that fantastic in summer, but when winter rolls in they are wonderful bathroom features. Having a lovely warm floor beneath your feet as you step, relaxed from the shower is a game changer. Unheated bathroom floors are cold and unwelcoming, but stick in some underfloor warmth and suddenly the bathroom is the room to be in. A heated towel from a warm rail is an added comfort to enhance the experience.